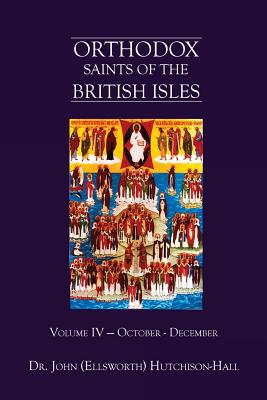 Orthodox Saints of the British Isles
Volume IV - October - December
Paperback

* Individual store prices may vary.
Other Editions of This Title:
Paperback (8/25/2014)
Paperback (12/11/2013)
Description
This is the first, and only, compendium to be written of the Lives of Orthodox Saints of the British Isles. Covering October through December, this fourth and final volume provides an enlightening guide to 161 of these inspiring and historic Orthodox men and women.These saints were not only key figures in the development of the Church; they are an intrinsic part of the fabric of the history of the British Isles, and by extension the entire Western world.
Createspace Independent Publishing Platform, 9781542718226, 316pp.
Publication Date: September 1, 2017
About the Author
Dr. John (Ellsworth) Hutchison-Hall is an Eastern Orthodox Christian theologian, philosopher, historian, and cultural commentator. He served as a Field Education Supervisor for seminarians and as both a disaster response and hospital chaplain. In addition to providing pastoral counselling, Dr. Hutchison-Hall runs support groups for people with mental illness. Dr. Hutchison-Hall has lectured widely and written on pastoral care in disaster, and compiled several service books. His latest work, Orthodox Saints of the British Isles, is the first comprehensive compendium of its kind; totalling four volumes, it will be followed by a multi-volume work of the Lives of Orthodox saints of pre-Schism Western Europe. Dr. Hutchison-Hall lives in New York City and has a Bachelor of Arts (Double Honours) in History and Philosophy with a concentration in Bio-Ethics, a Licentiate in Pastoral Theology, and a Doctorate of Ministry in Pastoral Counselling.