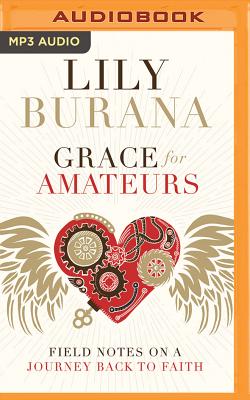 Grace for Amateurs
Field Notes on a Journey Back to Faith
MP3 CD

* Individual store prices may vary.
Other Editions of This Title:
Hardcover (10/31/2017)
Compact Disc (10/30/2017)
Description
Lily Burana was in crisis. Therapy, medication, and meditation had failed to lift her worsening depression, and the punk-rock-girl-turned-writer feared she would die. Desperate for rescue, Lily turned to her remedy of last resort: faith.
A lapsed Presbyterian who had drifted away from the church and into a life on the margins during her young adult years, Lily had long believed that Christianity had nothing to offer her. But in a last-ditch effort to save her life, she railed at God to send her a sign--and was shocked when he followed through. Reluctantly but resolutely, she decided to let God in, just a little bit, and commit to believing that the gospel is true.
Grace for Amateurs is a collection of linked essays that chronicles Lily's rocky road back to spiritual recovery. "I'm not so much looking 'to be made new' through Christ," she says, "but to be made, I don't know, 17 percent less horrible." Addressing themes as diverse as coming out as Christian to your non-Christian friends, the wonderful awfulness of Christian rock music, the intersection of faith and motherhood, and the effects of trauma on our souls, Lily holds nothing back as she wrestles with the obstacles that make belief so challenging.
Readers of Rachel Held Evans, Nadia Bolz-Weber, and Anne Lamott will recognize Lily Burana as a kindred spirit who is honest about her struggles with a faith that sometimes seems exclusionary and hostile. Whether the material is heart-wrenching or humorous, Lily's writing is both intelligent and down-to-earth, and her sentences are artful while still capturing the rawness and intensity of her emotions.
Lily insists that "Grace for Amateurs is not a 'God struck me with a bolt of lightning and I was instantly healed' salvation story. Rather, it is about choosing to believe, while doggedly pursuing faith as an agent of healing. It is about showing up, doing the hard work, and recognizing God's mercy when it wings in to help ease the way. It is about devotion, the gritty miracle of grace, and developing the will to survive and the audacity to flourish."
Thomas Nelson on Brilliance Audio, 9781543637380
Publication Date: October 31, 2017
or
Not Currently Available for Direct Purchase