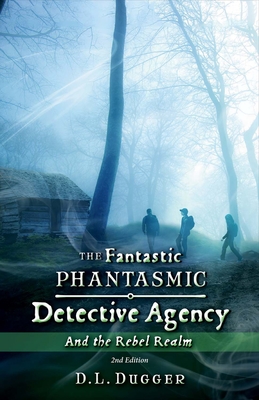 The Fantastic Phantasmic Detective Agency
And the Rebel Realm
Paperback

* Individual store prices may vary.
Description
Abby, Toby, and Billy are ordinary detectives with extraordinary clients: G-G-Ghosts! It's just another summer day of hunting frogs for twelve-year-old Billy, Abby, and Toby, when they stumble upon a deserted lake cabin and meet Mary, a real live ghost, searching for her lost locket. The trio offer to help her find it and the Fantastic Phantasmic Detective Agency is launched. But when the youthful sleuths enlist the help of the grumpy medium, Mr. Monsento, to help them with their second case, locating a ghost's missing ghost brother, a mysterious visitor from the UnderWorld appears. Soon the agency is entangled in a conflict between rebellious spirits, undead Realm Walkers, officious OtherWorld Bureaucrats and traitorous UnderWorld Demon Ambassadors.If you like your ghost stories with a twist and a dash of humor, you'll definitely enjoy this book.
BookBaby, 9781543923193, 382pp.
Publication Date: March 8, 2018
About the Author
Debra L. Dugger has worked in the biotechnology business for over 18 years and, as a departure from penning dry science reports, decided to try her hand at weaving bizarre stories about the afterlife.Chicago-born and a loyal Cub fan, Debra currently resides in the San Francisco Bay Area. When she's not working on goofy paranormal tales, she spends her time assisting her wood-carving husband with his art shows, using her poor art skills to create ugly metal jewelry, and torturing herself with unhealthy, highly addictive time-management computer games.
or
Not Currently Available for Direct Purchase