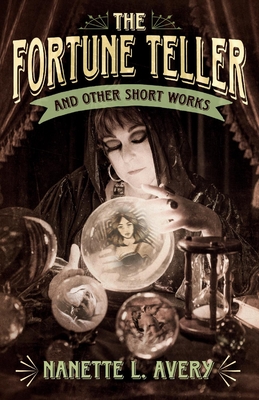 The Fortune Teller and Other Short Works (Paperback)
BookBaby, 9781543931846, 140pp.
Publication Date: July 1, 2018
* Individual store prices may vary.
Description
In a style of her own, Nanette L. Avery weaves together an imaginative and wide-ranging collection of short works from a woman's point of view. Created with the same skillfully crafted techniques that have defined her writing, Avery offers readers wry humor, surprise endings, strange encounters, and "oh, that's cool" in her latest book, The Fortune Teller and Other Short Works. Here destitute women follow behind Civil War troops, a fortune teller reveals an outlandish prediction, unidentified photographs possess a dead man's secret, an ordinary couple devises sinister plans, and a menagerie of other characters step into places and ideas that are often familiar yet strange. In the world of the short fiction, The Fortune Teller and Other Short Works presents an opportunity to take a hiatus from a labyrinth of lengthy text. Stories, such as the realistic narrative of The Lincoln Tunnel will strike a familiar chord for urban travelers. Set in Newark, New Jersey's bus terminal, a commute into Manhattan describes a more than realistic ride laced with dead-pan humor. Lorenzo's Produce captures the private revelations of a group of women all set in a most ordinary place, a grocery store, exposing innuendoes and the unspoken allusions of your everyday housewife. With more than thirty works to choose from, the collection brings together a cast of characters that say and do what most of us would only think. Endings with a twist do not go beyond reason, but adhere to logical conclusions, while the brevity of some of the pieces are like a tap on the shoulder reminiscent of our own private thoughts. Written in "matter-of-fact language," readers are invited to observe the curious details of everyday and not so everyday life. Sometimes short, sometimes mini, and sometimes blunt, all will entertain. And then, in a flash…they're gone.
About the Author
Nanette L. Avery, novelist and short story writer, is best known for her historical fiction, Orphan in America, which earned distinction as one of the "Best Indie Books of the Year" by Kirkus Reviews. Her most recent title The Fortune Teller and Other Short Works was inspired by her father, a man of great intellect and wit. Growing up in the Virgin Islands, Avery's diverse experiences as zoo designer, toy library director, educator, and artist contribute to the book's wide-ranging themes. As a mother and wife, she asserts that "Behind every great writer is a good listener." Nanette lives outside Nashville, Tennessee with her husband, Craig, and their orange cat.