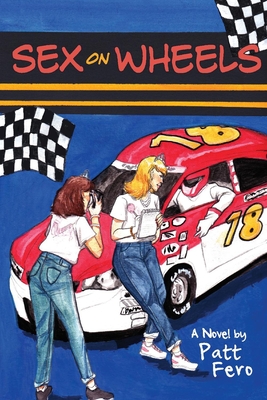 Sex on Wheels
Paperback

* Individual store prices may vary.
Description
Synopsis – Sex on Wheels/FeroBoomer 'Queens' Leslie and Liz set out for a new motor home adventure traveling to the 'High Cotton 500' Dixie Speedway race in Alabama. On assignment with the newspaper to do a feature documentary about life at the track, the two baby-boomer best friends experience a real learning curve about the racing culture.Hoping the adventure will be the cure for some mid-life boredom and general marital woes, the weekend at the track is chock-full of encounters with people from all walks of life, never ending partying, and of course the excitement of stock car racing. They quickly realize life at the track is no picnic at the country club.Complete with a guest trial run around the track with a famed driver, beer guzzling contests, mud wrestling, the turkey leg disc throw competition, and romantic encounters with a certain driver, there is more than enough material for a fabulous report. There was never a dull moment as they mingled with the wide range of diverse personalities they meet from the good ole' boys, a women who sells sex enhancers and gives advice to the love-lorn, an abused young woman, lots of race car drivers, pit crew members and a menagerie of thousands of race car fans. The race track experience creates yet another bond to the lifetime friendship for the two self-crowned Queens, and they are officially welcomed as members of the race car cult.
BookBaby, 9781543945478, 154pp.
Publication Date: December 21, 2018
About the Author
About the AuthorAward-winning author, Patt Fero is a native South Carolinian. Patt spent over twenty-five years in the private club and hospitality industries. She enjoys the beach, reading and walking. Patt has created two delightful female baby-boomer characters who experience one midlife crisis and adventure after another. Patt's first novel, www.queenmotorhome.com, introduced us to Leslie and Liz, baby-boomer aged best friends and self-crowned Queens. www.queenmotorhome.com is a runner-up in the 2016 Shelf Unbound Best Indie Book awards. The Reunion is Patt's second novel, with more sequels planned. The Reunion is a finalist in the 2016 Next Generation Indie Book Awards in the chick-lit category. The Reunion was also named an Honorable Mention in the 2016 Hollywood Book Festival in the General Fiction category. The Reunion is the winner in the women's fiction category in the 2016 Beverly Hills International Book Awards. Sex on Wheels is Patt's third novel presenting another fun and exciting motor home adventure, when Leslie and Liz travel to a national race car event. Patt's loyal readers will continue to enjoy following the lives and escapades of Leslie and Liz with their marriages, careers and travels. Patt's writings are fun and fast-paced, and readers will identify with her characters and relate to the stories in their own lives.