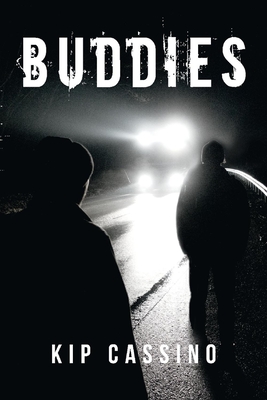 Buddies
Paperback

* Individual store prices may vary.
Description
That's them, walking down a long, empty road in Arizona or Colorado, Texas or New Mexico: Pauley and the Captain.

They're two war-damaged, life-saddened buddies looking for nothing more than a cool place to rest and the chance to earn a few bucks – in one of the small towns that dot the west. They only move on when a murder occurs. One of them is a vicious, knife-wielding serial killer, who's ended eight lives in the last ten years.

A murder in Arizona prompts the F.B.I. to connect the dots between the killings. A task force run by Special Agent Jack Prell begins hunting Pauley and the Captain, forcing them out of their western comfort zone.

On a desperate run to hide themselves, they're aided by a man whose life the Captain saved in Afghanistan. Now a Texas narcotics smuggler, Sixto Jimenez helps them mask themselves with new identities on their quest to disappear in the east – hopefully far from their hunters. The Captain is able to find work as a long distance trucker. Pauley becomes his helper.

The foolish use of a bogus credit card allows the F.B.I. to pick up their trail again. During their attempt to flee once more, Pauley is killed. Only the Captain, now unhinged by his buddy's death and increasingly crazed without his stabilizing meds, manages to escape.

With grim determination, the Captain plans his final run to the beaches of Florida. He vows to take as many of his tormentors with him as he can. His last stand will be disastrous for those who hunt him, and he will outwit them until his final breath.
BookBaby, 9781543985313, 228pp.
Publication Date: October 31, 2019
About the Author
Since his birth in New York City, Kip Cassino has travelled much of the world. He has run micro-tool factories in Israel and Hong Kong, studied art in Munich, and assembled nuclear weapons in South Korea. He holds a degree in Business Administration from Villanova University. He is a Vietnam veteran.
Cassino has worked construction, been a soldier, written for newspapers, and performed market research during a professional career that spanned five decades. His articles have appeared in publications as diverse as The New Times, Smithsonian Air & Space, Entrepreneur, and Ad Week, and he has been interviewed by Meet the Press, BBC, and VICE Magazine. He has written science fiction for Analog and numerous technical industry analyses for Borrell Associates, where he served as executive vice president and chief forecaster for more than a decade. He was awarded the Research Award of Merit by the Newspaper Association of America in 2008. "Buddies" was awarded a Golden Palm Award for best mystery/thriller by the Florida Writers Association in 2021.
Along with Helen, his wife and life partner for far too short a time, Cassino retired to write in Tucson, Arizona. Since her untimely passing, he has moved to Boca Raton, Florida—where he lives with his wonderful daughter Charlene and her family. Here he continues to write as he marvels at the vitality of nine incredible grandchildren.
or
Not Currently Available for Direct Purchase