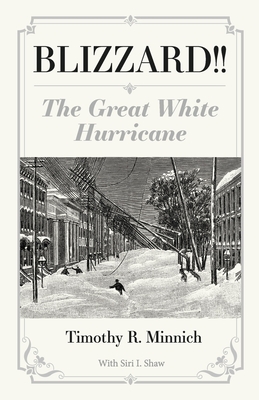 Blizzard!! The Great White Hurricane
Paperback

* Individual store prices may vary.
Description
THE BLIZZARD OF 1888, legendary in the annals of American weather history, was among the most ferocious winter storms ever to pound the Northeast. Many hundreds of people perished on land and sea during its three-day reign of terror, including some 200 in New York City alone – ground-zero for this storm. In his debut novel, Tim Minnich paints a vibrant New York City landscape in the weeks leading up to what has been coined "The Great White Hurricane." Bound to fascinate weather enthusiasts, history buffs, and general readers alike, Minnich captures the suspense which culminates in this awesome display of nature, all while vividly depicting life in late Nineteenth Century Manhattan.On Sunday evening March 11th, the denizens of this great metropolis go to sleep completely unaware they'd be awakening to a howling blizzard. All except for young William Roebling, a brilliant meteorologist recently transferred to the New York Office of the US Army's fledgling Signal Service Corps – the agency responsible for the nation's first weather forecasts. Will has painstakingly developed an ingenious system allowing him to predict this historic event days in advance, but his unconvinced Commanding Officer, for political reasons, orders his silence. A conflicted Will feels he must alert his loved ones, and does – only to find himself in a battle for his life at the height of the storm.Minnich deftly combines the drama and excitement of the blizzard with its profound impact on those unfortunate enough to have been caught in its path, simultaneously weaving an engaging tale of true love, faith, and the indomitable human spirit.
BookBaby, 9781543987485, 452pp.
Publication Date: December 30, 2019
About the Author
As far back as he can remember, Timothy Minnich has been fascinated with the weather – especially snowstorms. He clearly recalls, as a first-grader (and younger), the winter evenings he'd sneak his transistor radio under his pillow whenever a big storm was approaching, waking every few hours to get the latest forecasts. So it is no surprise that he always knew, while growing up in the Northeast, that when he got to college he would be studying meteorology.Tim earned his Bachelor's and Master's degrees in Meteorology from Rutgers University (Cook College) in 1975 and 1978, respectively. In the early 1980's, he went to work for a U.S. EPA contractor investigating potential hazardous waste sites under the newly enacted "Superfund" legislation. Responsible for some 80 environmental professionals, this position afforded him the opportunity to hone his writing skills as duties included extensive report writing and editing. He later joined a national environmental engineering company to start an air services group which he quickly grew to a profitable division. In 1996, with a partner, Tim founded an air quality consulting firm which he still runs today. Despite his meteorology degrees playing only a modest role in his career, he never lost his fascination with the weather. In fact, he always made time to give family and friends a "heads-up" whenever a severe weather event was on the horizon.Over the years, his appetite for devouring novels steadily grew, with a corresponding desire to (someday) pen his own. Then one day in August 2012, the idea hit him – like a ton of bricks – to write Blizzard!! The Great White Hurricane; a calling "too delicious to ignore," as he describes it. He has already formulated the storyline for his next novel.Tim lives in central New Jersey. He enjoys being at one with nature, playing his acoustic guitar, and watching his New York Rangers hockey team on TV. He recently celebrated 20 wonderful years with his sweetheart (who is also his wife). They live with her mom (93 years young) and their amazing cat, Spartacus. Tim has three grown children – all with significant others – but no grandchildren yet!Siri I. Shaw, editor extraordinaire, has had a passion for the written word for more than six decades; she started reading well before the age of five (and has yet to stop!). Writing and editing came naturally to her, and she has practiced both – vocationally and avocationally – throughout her life. After falling in love with the delightful cast of Blizzard!! The Great White Hurricane, it was her great privilege to be able to deepen and expand upon their characterizations and relationships while improving the overall "readability" of the text. She currently lives in central New Jersey with her two significant others – her sweetheart (and husband) of 20 years and her 93 year young Mom, who happens to be the walking, talking, living, breathing embodiment of Joy, Gratitude, and Love (and no, the apple did NOT fall far from that tree!).