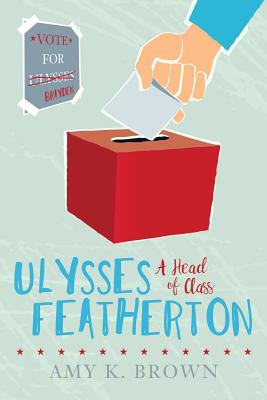 Ulysses Featherton (Paperback)
A Head of Class
Createspace Independent Publishing Platform, 9781544058764, 126pp.
Publication Date: April 15, 2017
* Individual store prices may vary.
Description
Author and educator Amy K. Brown uses the amazing adventures of one very special boy to introduce readers to advanced vocabulary and complex text. Brown's work is so engaging that readers won't even realize how much they're learning. They will be too busy wondering what the singular Ulysses Odysseus Featherton will do next.
Ulysses can crack great jokes, but it's not enough to protect him from bullying. The resident tough guy, Brayden Flanagan, loves to think up new and complex ways of humiliating Ulysses. He nominated Ulysses for seventh-grade class president just so he could crush him in the election Ulysses knows that a bully with an imagination is a very dangerous foe.
Luckily Ulysses has a superpower. He can make people do and say the exact opposite of what they want. He uses it to convince his health-conscious mom to give him all the junk food he wants. He also uses it to exact revenge on Brayden.
Ulysses soon realizes that superpowers shouldn't be about getting what you want but about helping others. He turns his attention to saving the town and teams up with an unlikely ally to take down a true supervillain.
About the Author
Amy K. Brown uses her experience as an elementary teacher, reading specialist, and educational consultant to make complex text and vocabulary fun and interesting for children. Ulysses Featherton: A Head of Class is an engaging blend of academic vocabulary, humor, and a storyline that is both easily readable and relatable. Brown has worked in a variety of public and private schools, as well as for the Rhode Island Department of Education and the nonprofit Highlander Institute. Her first Ulysses Featherton fans were her two young boys. She lives with her family in Norfolk, Virginia