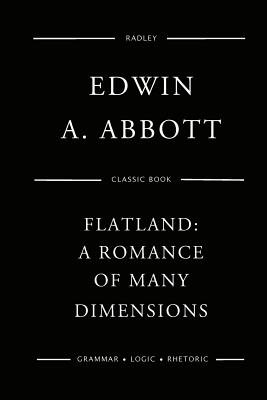 Flatland (Paperback)
A Romance of Many Dimensions
Createspace Independent Publishing Platform, 9781544205335, 146pp.
Publication Date: March 6, 2017
Other Editions of This Title:
Paperback (5/18/2019)
Paperback (1/25/2014)
Paperback (10/9/2018)
Paperback (6/9/2017)
Paperback (6/11/2015)
Paperback (8/18/2019)
Paperback (12/17/2010)
Paperback (8/27/2018)
Paperback (6/11/2018)
Paperback (5/23/2016)
Paperback (12/13/2015)
Paperback (12/29/2015)
Paperback (9/7/2016)
Paperback (9/25/2019)
* Individual store prices may vary.
Description
Flatland: A Romance of Many Dimensions is a satirical novella by the English schoolmaster Edwin Abbott Abbott, rst published in 1884 by Seeley & Co. of London. Written pseudonymously by "A Square," the book used the ctional two-dimensional world of Flatland to comment on the hierarchy of Victorian culture, but the novella's more enduring contribution is its examination of dimensions.Flatland has become a classic of science (and mathematical) fiction - charmingly illustrated by the author - and describes the journeys of A. Square and his adventures in Spaceland (three dimensions), Lineland (one dimension) and Pointland (no dimensions). A. Square also entertains thoughts of visiting a land of four dimensions - a revolutionary idea for which he is banished from Spaceland. Although Flatland was not ignored when it was published, it did not obtain a great success. The book was discovered again after Albert Einstein's general theory of relativity was published, which introduced the concept of a fourth dimension. The Oxford Dictionary of National Biography now contains a reference to Flatland.Several films have been made from the story, including the feature film Flatland (2007). Other efforts have been short or experimental films, including one narrated by Dudley Moore and the short films Flatland: The Movie (2007) and Flatland 2: Sphereland (2012).This classic title has been published by RADLEY BOOKS. Each RADLEY CLASSIC is a meticulously restored, luxurious and faithful reproduction of a classic book; produced with elegant text layout, clarity of presentation, and stylistic features that make reading a true pleasure. Special attention is given to legible fonts and adequate letter sizing, correct line length for readability, generous margins and triple lead (lavish line separation); plus we do not allow any mistakes/changes/additions to creep into the author.