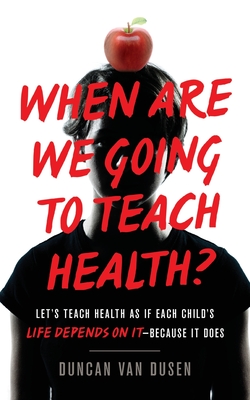 When Are We Going to Teach Health?
Let's Teach Health as If Each Child's Life Depends on It - Because It Does
Paperback

* Individual store prices may vary.
Description
Fact: Health improves learning.
Yet nationwide, elementary school students spend twelve times more classroom hours studying history than health. Worse, most kids don't get enough physical activity and over 5 million underage youth vape.
In When Are We Going to Teach Health?, Duncan Van Dusen, the CEO of one of the most widely used youth health education programs in the world, makes a novel, sometimes irreverent, case for prioritizing "Whole Child" health and SEL in K-12 schools.

He shows why health drives academic success, what makes teaching health effective, and how to create a school environment that delivers and sustains healthy behavior. Using case studies, tips, and recommended actions, he describes proven youth empowerment and skills-based health education techniques to increase kids' physical activity and healthy food choices and to decrease youth vaping.
Half of the proceeds from this book will fund health education in low-income schools.
Lioncrest Publishing, 9781544507613, 236pp.
Publication Date: November 10, 2020