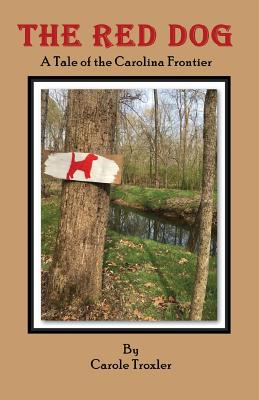 The Red Dog (Paperback)
A Tale of the Carolina Frontier
Createspace Independent Publishing Platform, 9781544869506, 172pp.
Publication Date: April 20, 2017
* Individual store prices may vary.
Description
It is 1764 in the North Carolina Piedmont. Thirteen year-old Lizzy worries for her younger brother. They are orphans, separated by apprenticeships to different masters. In her new location, she faces hard work, a lower social status, and changes in her body that puzzle and confuse her. While she works in her master's Red Dog Tavern, she learns of grievances that will explode soon in the Regulator Movement. As a white girl, she is curious about slavery, which is not yet secure in the Piedmont. Readers will gain insights on how white supremacy increased there during Lizzy's lifetime. Lizzy bonds with ethnically diverse friends, and their help to one another brings danger. Throughout their adventures, she tries to keep herself steady and make the best of her apprenticeship by thinking about her mother's example. With memories of her mother fading, Lizzy learns to think - and feel - her own way. There are nuggets of recognition to engage twenty-first century readers and connect them with the backcountry world of Lizzy and her friends. Their stories display everyday habits, folk knowledge and stories, religious identities, and experiences with fosterage and apprenticeship. The teenagers use skills such as papermaking, guiding a pack line of horses across a stream, and using snakes to kill bad guys. Now a footloose historian as Professor Emerita at Elon University, the author continues to research and write scholarly history. The Red Dog: A Tale of the Carolina Frontier is her first work of fiction. It draws from decades of research and publication about the late eighteenth century in the southern backcountry.
About the Author
Carole Watterson Troxler is a footloose historian, and part of her mind resides happily in the eighteenth century. As Professor Emerita at Elon University, Carole continues to research and write scholarly history, focusing primarily on the impacts of the American Revolution in the southern backcountry, Atlantic Canada, and the Bahamas. Decades of research fed her imagination while she created The Red Dog: A Tale of the Carolina Frontier, her first work of fiction, during summer breaks from her usual writing. Her fellow historians of Colonial and Revolutionary America "know [her] fondly as the grand dame of backcountry Southern Loyalists" -- (Rebecca N. Brannon, James Madison University). Carole loves living in the woods in Alamance County, North Carolina, where she encourages native plants and plays Old-Time Music. George and Carole Troxler are in their fiftieth year of marriage in 2017. They are blessed with two accomplished and happy daughters, the world's cutest grandbaby, a near-granddaughter whose elegance is reflected in the heroine of The Red Dog, and outstanding in-laws all around. A native of LaGrange, Georgia, Carole holds a Ph.D. in history from the University of North Carolina at Chapel Hill. She has received two book awards and the North Carolina Literary and Historical Association's Christopher Crittenden Award.