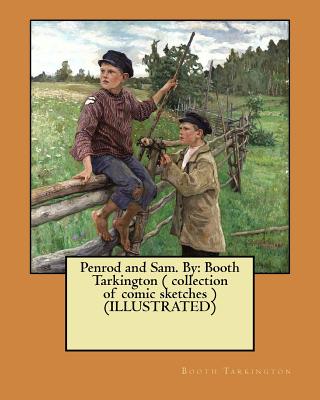 Penrod and Sam. by (Paperback)
Booth Tarkington ( Collection of Comic Sketches ) (Illustrated)
Createspace Independent Publishing Platform, 9781545558157, 130pp.
Publication Date: April 24, 2017
Other Editions of This Title:
Paperback (5/15/2003)
Paperback (6/27/2017)
Paperback (10/23/2017)
Paperback (8/16/2017)
Paperback (9/29/2017)
Paperback (11/26/2017)
Paperback (3/22/2018)
Paperback (11/8/2017)
Paperback, German (1/30/2018)
Paperback (10/13/2017)
Paperback (2/9/2018)
Hardcover (5/15/2003)
Hardcover (1/30/2018)
Paperback (5/24/2017)
Hardcover (5/24/2017)
Paperback (9/1/2016)
Paperback (10/17/2017)
Paperback (10/5/2017)
Paperback (3/1/2017)
* Individual store prices may vary.
Description
Newton Booth Tarkington (July 29, 1869 - May 19, 1946) was an American novelist and dramatist best known for his novels The Magnificent Ambersons and Alice Adams. He is one of only three novelists to win the Pulitzer Prize for Fiction more than once, along with William Faulkner and John Updike. Penrod is a collection of comic sketches by Booth Tarkington that was first published in 1914. The book follows the misadventures of Penrod Schofield, an eleven-year-old boy growing up in the pre-World War I Midwestern United States, in a similar vein to The Adventures of Tom Sawyer. In Penrod, Tarkington established characters who appeared in two further books, Penrod and Sam (1916) and Penrod Jashber (1929). The three books were published together in one volume, Penrod: His Complete Story, in 1931.