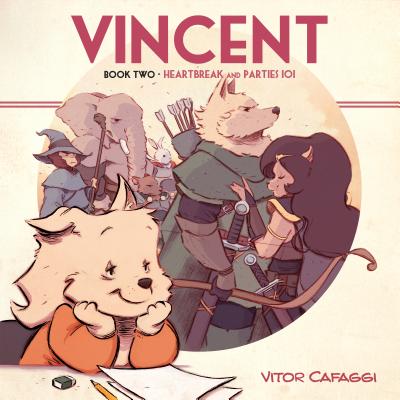 Vincent Book Two (Paperback)
Heartbreak and Parties 101
Super Genius, 9781545803172, 96pp.
Publication Date: July 16, 2019
* Individual store prices may vary.
Description
Fabio Moon (Daytripper, How to Talk to Girls at Parties) says "It is so good reading VINCENT, by Vitor Cafaggi, that when it ends it leaves you longing for more." In this hip, beautiful illustrated series, populated with an irresistible anthropomorphic cast of characters, things are really heating up for Vincent. It wasn't too long ago that he could only dream about being in a serious relationship, and suddenly finding himself involved with not one, but two incredible females. He's made his decision to get serious with Princess, and to just be friends with Lady. That's fine until Princess leaves for college. If it wasn't hard enough to maintain such a long distance relationship, Vincent's just got a call from Princess, saying "We need to talk." Can parties, RPG, and cheese empanadas ease Vincent's pain as he starts college life alone and confused?