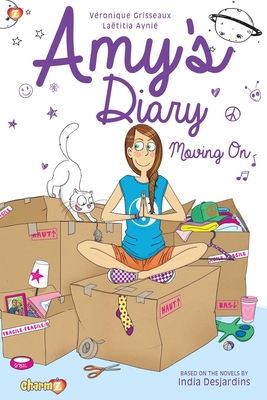 Amy's Diary #3 (Hardcover)
Moving on! (Amy's Diary #3)
Charmz, 9781545803448, 96pp.
Publication Date: January 14, 2020
Other Editions of This Title:
Paperback (1/14/2020)
* Individual store prices may vary.
Description
Since Amy's been going out with John, she has become the most popular girl in the halls. But she spends so much time with her new friends that she forgets Kat, her best friend. As for her ex, Nick, he still thinks about his lost love, Amy. And the icing on the cake: Amy's mom tells her that they're moving in with her new fiancé, Francis. Aaaaargh! Help! Noooo! Gross! Even if change terrifies her, Amy must try to brave the future with style!
About the Author
India Desjardins
Following a ten-year career in journalism, the author began doing what she most likes to do: writing fiction.
Veronique Grisseaux
Writer
VERONIQUE GRISSEAUX's writing credits include everything from television to comics, such works as "Lucie s'en soucie," "Totally Spies," and "Bride Wars."
Aynié Laëtitia
Passionate freelance artist since 2002, Aynié completed her art education in Lyon and Paris. Mixing disciplines in an iconic style, she draws her inspiration from today's society, warts and all, and in all its diversity. She is a painter, sculptor, and a frequent exhibitor in small galleries throughout France.