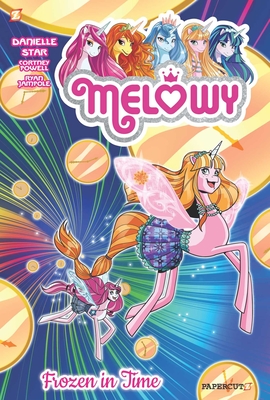 Melowy Vol. 4 (Hardcover)
Frozen in Time
Papercutz, 9781545803509, 64pp.
Publication Date: May 12, 2020
Other Editions of This Title:
Paperback (5/12/2020)
* Individual store prices may vary.
Description
The magical school of Destiny, high among the four mystical realms is frozen in time! It is up to Destiny's brightest pupils, Cleo, Electra, Maya, Cora, and Selena to band together and mend time itself! But, when Cora recalls an old tale from her Winter Realm about a relic that can control time, the five Melowies must battle the bitter cold, race against time, and find this fabled relic to unfreeze the whole school…before it's too late.
About the Author
RYAN JAMPOLE is a Harvey Award nominated comic artist.
He hails from Queens, New York and attended the High School of Art & Design and the Fashion Institute of Technology. Ryan has drawn MEGA MAN and SONIC for Archie comics, DEXTER'S LABORATORY, and CODENAME KND for IDW and GERONIMO and THEA STILTON comics for Papercutz.
DANIELLE STAR has done a bit of everything. She's been an assistant cook at a famous French pastry shop, the head editor of a fashion magazine, and a dance teacher. Once she started writing, though, she's never stopped. Today she lives in the English countryside with her five horses, her cat Sugar Cube, and her dog Fluffy. Every morning before she starts writing, she drinks a big wild strawberry smoothie and reads a good book.

CORTNEY FAYE POWELL was born in Alabama, but is living most of her life in the magical realm of New York City, and is a writer, poet, actress, filmmaker, animal-lover, and yogini. At an early age Cortney met Batman co-creator Bob Kane and filmmakers Francis Ford Coppola and Lloyd Kaufman at the San Diego Comic-Con. At the prestigious Professional Performing Arts School, she was proud to star as Enid in cartoonist/playwright Lynda Barry's play "The Good Times Are Killing Me." A fan of such comics as BARBIE, LENORE, and LITTLE LULU, Cortney worked on revising the DISNEY FAIRIES scripts for an American audience for the Papercutz graphic novels. Her magical comics journey continue as the writer on the MELOWY graphic novel series, where she believe the most powerful magic of all is: Love.