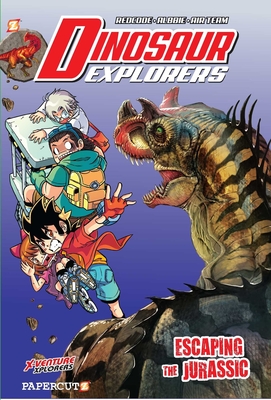 Dinosaur Explorers Vol. 6 (Paperback)
Escaping the Jurassic
Papercutz, 9781545804162, 184pp.
Publication Date: March 24, 2020
Other Editions of This Title:
Hardcover (3/24/2020)
* Individual store prices may vary.
Description
After recovering from a few missteps while lost in the Jurassic, Rain, Stone, Sean, and Emily—the Dinosaur Explorers--are finally ready to explore the prehistoric era! And they're going to need the help of Doctor Da Vinci, Diana, and robot helper Starz plus all the luck they can get to escape the world's largest dinosaurs! It's going to be a rough ride, but the team is up for the challenge, and ready to get one step closer to their return to their present-day home!
About the Author
Albbie
Joined KADOKAWA GEMPAK STARZ™ in 2003. One of the COMIC KING™ and POPCORN™ magazines' co-conceptualisers. Currently part of the senior editorial staff at COMIC KING™. Began planning Dinosaur Explorers series in 2009, and is responsible for research, story and editing.
Redcode
Joined KADOKAWA GEMPAK STARZ™ in 2010. Currently working on planning and scripting of Dinosaur Explorers series.