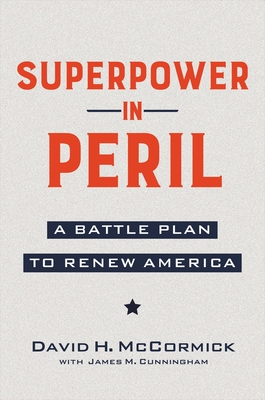 Superpower in Peril
A Battle Plan to Renew America
Hardcover

* Individual store prices may vary.
Description
Discover a groundbreaking vision for how to unlock America's full potential for greatness from one of the country's foremost conservative leaders:  David McCormick, the former CEO of Bridgewater Associates.
It's easy to be pessimistic about the state of our country these days, but as McCormick explains, if the true test of a great country is its capacity for self-renewal, the United States of America stands apart. Our country has continually defeated grave threats and overcome domestic divisions when the odds have been stacked against us. That's the American story, and we can do it again.
Drawing on decades of leadership in business, the military, and government, McCormick issues a call for visionary, servant leadership and outlines a conservative agenda for American renewal that would expand access to the American Dream, ensure U.S. technological supremacy, confront China, and revive the restless, courageous, and indefatigable spirit that dwells within the American heart. 
This book is a must read for those who care deeply about the future of America. McCormick, a former candidate for the U.S. Senate in Pennsylvania in 2022, argues the path forward is treacherous and uncertain. It will undoubtedly test our resilience and place in the world. But if we commit ourselves to renewal, America's best days are yet to come.
Praise For Superpower in Peril: A Battle Plan to Renew America…
"In Superpower in Peril, David McCormick answers the most important question of our time: How do we save America from the forces that want to tear it apart? This book is a must-read for all who care about the fight for our republic."—Mark Levin, Radio and Television Host

"Superpower in Peril is a timely and provocative guide for what our country must do next, full of lessons from David McCormick's time as a CEO, military officer, and statesman."—Marillyn Hewson, Former Chairman, President, and Chief Executive Officer of Lockheed Martin Corporation

"Superpower in Peril is a book to be read and discussed, but it is also a book to be implemented. It is up to us to ensure that David McCormick's recommendations carry on beyond its pages, drive real change, and restore confidence in our ability to build a better future for generations of Americans to come."—H.R. McMaster, Senior Fellow at the Hoover Institution and Author of Battlegrounds: The Fight to Defend the Free World

"We have not heard the last of David McCormick. Though unsuccessful in his bid to be the Republican Senate candidate in Pennsylvania in 2022, he is driven not just to succeed—which he has done in the military, in business and in government—but also to serve. Superpower in Peril is a manifesto for national renewal, a powerful riposte to those who claim America's best days are behind it. Immigration reform, a National Innovation Council, a bonfire of the Biden administration's regulations, reform of Big Tech, not to mention Big Defense: McCormick argues persuasively for all these things as part of a national 'battle plan' to meet both the global challenge posed by the Chinese Communist Party and the (arguably bigger) internal threat posed by the sclerotic bureaucracies of the administrative state."—Niall Ferguson, Senior Fellow at the Hoover Institution and Author of Doom: The Politics of Catastrophe
Center Street, 9781546001959, 320pp.
Publication Date: March 14, 2023
About the Author
David H. McCormick is a prominent business executive, combat veteran, and public servant. David served as the Chief Executive Officer of Bridgewater Associates, one of the world's largest investment management firms, before pursuing a U.S. Senate seat in his home state of Pennsylvania in 2022. Prior to Bridgewater, he was the U.S. Treasury Under Secretary for International Affairs and held senior posts on the National Security Council and at the Department of Commerce. From 1999-2005, David was the CEO and then President of two publicly traded software companies. He is a graduate of the United States Military Academy, a former Army paratrooper, and a veteran of the First Gulf War. David holds a Ph.D. from Princeton's School of Public and International Affairs, and previously served on the Defense Policy Board. 

James M. Cunningham was an associate at Bridgewater Associates when he and David McCormick began writing this book, later joining David's campaign for the U.S. Senate as a senior policy advisor. Previously, James worked as a policy analyst at the Hoover Institution, under former Secretary of State George Shultz, and at the American Enterprise Institute. He holds a Bachelor of Science and Engineering from Princeton University.