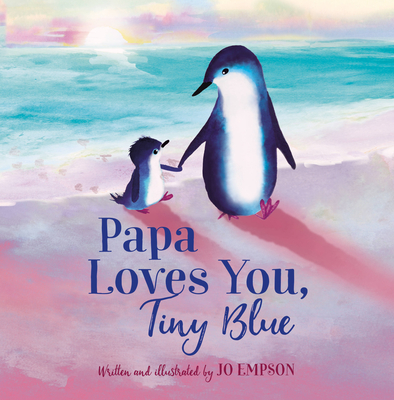 Papa Loves You, Tiny Blue
Hardcover

* Individual store prices may vary.
Description
Discover the beauty of the undersea world and the loving relationship between father and child in this lushly illustrated picture book.

Tiny Blue is very small, but he has lots of big, big questions: How old is the ocean? Do starfish live in the sky? Is there sand on the moon? Tiny Blue thinks his papa is very wise and must know the answers to everything! But can Papa answer perhaps the biggest question of them all: What is love? Perfectly capturing the curious nature of young children, Papa Loves You, Tiny Blue is a beautiful exploration of nature and a heartwarming tale of the love between parent and child.
 
Praise For Papa Loves You, Tiny Blue…
"Empson takes us on an adventure as we follow the journey of a little penguin named Tiny Blue and his papa. . . . Caregivers of young children will see their inquisitive wards reflected in Tiny Blue, whose insatiable curiosity sometimes veers toward random yet thought-provoking subjects ("Papa, is there sand on the moon?"), while children can connect to the tiny penguin's thirst for knowledge. . . . While Papa tries his best to answer all of Tiny Blue's inquiries about these other creatures, he also has his hands—ahem, flippers—full keeping Tiny Blue safe; but any unanswered questions are addressed in the fun backmatter."—Kirkus Reviews

"A small blue penguin's adulation for his father propels this dialogue-driven story for the marine-inclined. Fairy penguin Tiny Blue demonstrates an unwavering faith in his father's wisdom, asking ceaseless questions about the oceanic world around them. "How old is the ocean?" he asks. "Why can't I fly? Will I learn some day?" Papa's patient replies offer instruction for Tiny Blue and readers. Awash in indigo, turquoise, and other beachy hues, Empson's suitably immersive renderings present an underwater environment populated with colorful sea dwellers, including jellyfish, seahorses, and a gentle whale shark. When seals arrive on the scene, a brief moment of suspense provides an opening for Tiny Blue's questions to build in seriousness, creating a fittingly profound conclusion that foregrounds the attachment between father and young: "Will you always keep me safe?" and "What is love?" Back matter offers information on fairy penguins and missing explanations to Tiny Blue's questions."—Publishers Weekly
WorthyKids, 9781546002215, 32pp.
Publication Date: May 3, 2022
About the Author
Jo Empson lives in Wiltshire, England, and graduated from Cambridge School of Art with a Master's degree in children's book illustration. Her background as a graphic designer has had a great influence on her work, and she especially loves children's books created by former designers, such as the great Eric Carle.
Jo's illustrations are inspired by nature, which she expresses through the use of texture and movement with a strong sense of shape, color, and design. She loves playing with color as a form of visual narrative, and her abiding wish is to produce beautiful books with depth and meaning. She is never happier than when she is swept away in storytelling—in all its aspects—whether it be writing, illustrating or reading a favorite picture book (which she still does every night!).