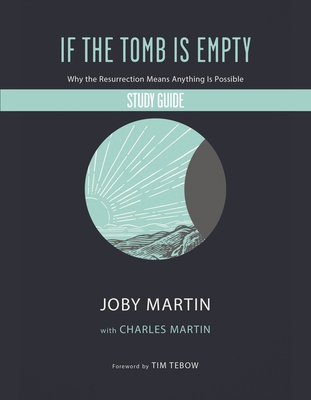 If the Tomb Is Empty Study Guide
Why the Resurrection Means Anything Is Possible
Paperback

* Individual store prices may vary.
Description
In his debut book, Joby Martin, pastor of Church of Eleven22, one of the fastest growing churches in the country, dives deep into scripture and traces the story of salvation by highlighting the seven mountains throughout scripture where God manifests himself. As he describes each encounter with God, Martin shows us how the interaction on each mountain laid the groundwork for the sacrifice of Christ on Calvary, and shows what God revealed about Himself in the process. He ultimately shows the reader that three days later, Christ walked out of that tomb alive, and because of that, anything is possible.
 
Now, in this companion study guide, Joby Martin will lead readers deeper into the exploration of the seven encounters with God that led up to the crucifixion, and help them apply the deep truths found in each chapter to their own lives.
 
Through inspirational Scripture, practical applications, and thoughtful exercises, the If the Tomb is Empty Study Guide will help readers dig deeper and understand the resurrection in a whole new way.
FaithWords, 9781546002253, 96pp.
Publication Date: February 8, 2022
About the Author
Joby Martin is the founder and lead pastor of The Church of Eleven22 in Jacksonville, Florida. Since launching the church in 2012, he has led a movement for all people to discover and deepen a relationship with Jesus Christ. In addition to providing The Church of Eleven22 with vision and leadership, Pastor Joby is a national and international preacher and teacher. He has been married to his wife, Gretchen, for over 20 years and they have a son, JP, and a daughter, Reagan Capri.

Charles Martin is a is a New York Times bestselling author of 16 novels, including his most recent, The Letter Keeper. He has also recently authored two nonfiction works, What If It's True? and They Turned the World Upside Down. His work has been translated into 35+ languages.
or
Not Currently Available for Direct Purchase