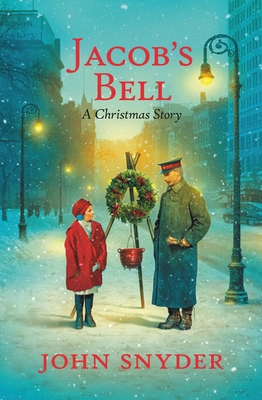 Jacob's Bell
A Christmas Story
Hardcover

* Individual store prices may vary.
Other Editions of This Title:
Compact Disc (10/2/2018)
MP3 CD (10/2/2018)
Description
For readers of Richard Paul Evans and Melody Carlson comes, Jacob's Bell, a heartwarming Christmas story about how an unlikely friendship between an old man and a little girl saved a family.

Sometimes the road to forgiveness and restoration can be a rocky one. Set in Chicago and Baltimore in 1944 with flashbacks to the 1920s, Jacob's Bell follows Jacob MacCallum on his arduous journey to redemption.

At one time, Jacob had it all: wealth, a wonderful family and a position as one of the most respected businessmen in Chicago. Then he made some bad decisions and all that changed. For the past twenty years he lived in an alcohol-induced haze, riddled with guilt for the dreadful things he had done to his family and his role in the untimely death of his wife. Estranged from his children and penniless, he was in and out of jail, on the street and jumping freight trains for transportation. Realizing he needed a drastic change, Jacob embarked on a journey to find his children, seek their forgiveness, and restore his relationship with them. Befriended by a pastor at a Salvation Army mission, he struggled to transform his life. Yet finally he overcame his demons, but not without a fair number of setbacks. Jacob became a Salvation Army Bell Ringer at Christmastime. While ringing his bell on a street corner one snowy day, he met a young girl who, through a series of strange coincidences, led him back to his children and facilitated Jacob's forgiveness just in time for Christmas.

Author John Snyder pens a story of love, hardship, and reconciliation that will leave readers filled with Christmas joy.
Praise For Jacob's Bell: A Christmas Story…
Praise for JACOB'S BELL
"
Jacob's Bell
by John Snyder is a splendid achievement and 'rings' with many truths. Snyder cares about his characters and makes us come to care as well. He gives us Jacob McCallum, a man who had it all until his addiction to alcohol took everything away and he lost his fortune, his family and his way in life. Snyder writes with simplicity and depth about the harshness and vagaries that life can bring but also about its beauty. He shows a reverence for the past and memories that may be from years ago but which are given as fresh and as near as this minute. His prose resounds with a love of people and the world and is grounded in the particulars of our America - its cities and byways, its taverns and highways.
Jacob's Bell
is a book that has, in my judgment, exceptional merit. It registers the redemptive power of forgiveness and love and I highly recommend it."—
Brian Avery, Film Producer, Yari Film Group -- Los Angeles, CA
"Jacob's Bell
takes readers on a journey of success & failure, love & hate, bitterness & repentance. This tale promises to become a Christmas classic that transports each of us to many familiar and unfamiliar places all the while calling us to a place of forgiveness and restoration. Jacob's Bell is a gift that reminds us of the TRUE meaning of Christmas and the forgiveness that comes when we trust in God's indescribable gift...his Son Jesus.
Jacob's Bell
will hold a special place in our family library and Christmas tradition!"—
Jeff Sheets, Former President, Echolight Studios --Franklin, TN
"I was so moved by John Snyder's latest book,
Jacob's Bell
. It reminded me of God's blessings in our lives and how there is nothing more important than generosity, family, faith and forgiveness. With these things, the impossible becomes possible. John has reminded us why Christmas is so special, and I am truly blessed to have read this remarkable story. Amen."—
Dan Angel, Film Producer & President of Fezziwig Studios -- Los Angeles, CA
"John has once again written a gem of a book. He is able to highlight spirituality without excessive sentimentality. I heartily recommend it to anyone who would like to be inspired and entertained by good writing."
—
Bob Parsley, Pastor First Baptist Church of Crofton, MarylandPraise for The Golden Ring:
"I read a lot of fiction, particularly Christian fiction. And I enjoy novellas, particularly Christmas stories. Having read scorers of them over the past decade or so, I can say without reservation that in every regard-style, story, substance- The Golden Ring merits a place on the Christmas Classics shelf right alongside A Christmas Carol, The Other Wise Man and more contemporary bestsellers VanLiere's The Christmas Shoes or Richard Paul Evans' The Christmas Box."
—
Randall Murphree, Editor, AMERICAN FAMILY ASSOCIATION
"A new book published last year must be added to your collection and given as gifts. The Golden Ring by John Snyder is destined to become a classic that will be read chapter by chapter by anyone who wants to get closer to the essence of Christmas."
—
Jill Kamp, The Washington Times - Washington, DC
"The Golden Ring is not only a meaningful gift for those you love, but will also serve as a catalyst for giving and receiving your own family stories. What better package to place under the tree?"
—
Jamie Whitfield, BookPage
"This is a book that is a must read for the holidays."
—
Ella Leasure, WROG-FM Hit Country 102.9 - Cumberland, MD
"One of the most incredible stories I have run across for a long time... a beautiful story that embodies the true meaning of Christmas."
—
Dr. Jerry Fuller, WGTS-FM - Silver Spring, MD
"Here is a story that deals with the real meaning of Christmas. This is the kind of story you that you could sit around with the entire family and read. It's very entertaining-very heartwarming."
—
Doug Griffith, WAYM-FM - Nashville, TN
"What started out as a simple conversation over a cup of coffee between a grandson and his grandmother turned into a Christmas story that pulls on the heartstrings and stirs emotions that readers may not have known existed" ..."For a gift for someone special, no matter what age, or a gift to warm the heart, touch the senses and travel to a place never seen before..."
—
Thomas Dennison, The Enquirer Gazette - Upper Marlboro, MD
"It was Snyder's curiosity that led him to question Anna Snyder. It was intrigue which led to the investigation of her biographical and historical recounts. But it was the writer in Snyder which allowed him to combine loving memories with factual information and comprise a loving, warm Christmas book which can warm the heart on a chilly day this holiday season."
—
Barbara Bolden, Managing Editor, The Prince George's Sentinel - Lanham, MD
"The Golden Ring is an old-fashioned story, mixing the simple joys of Christmas past with Christian beliefs and spirituality, a touch of magic, and an emphasis on family and the true meaning of the holiday. The Golden Ring reminded me somewhat of Louisa May Alcott's An Old-Fashioned Thanksgiving, dwelling on the same sorts of details of a family holiday. It's a heartwarming tale with an ending that is surprising, yet provides a sense of symmetry. Add it to your collection of Christmas classics to be read aloud to younger members of the family or quietly to yourself, as a lesson to the kids and a reminder to the rest of us of what the holiday should be all about."
—
Hilary Williamson, Bookloons Teens Review
"This is a short and pleasant story that will set the tone for this blessed season."
—
David Agriesti, www.ninetyandnine.com
"The Golden Ring is a wonderful testimony to the miracles laden in the Christmas season."
—
WomanLinks.com Book Reviews
"The Golden Ring is a touching, beautiful Christmas story that brought tears to my eyes. John Snyder has captured the true spirit of Christmas, both the religious & festive sides of the holiday. Surprisingly, it is a true story that his beloved grandmother told him one Christmas a little while before she passed away. I love this book. I recommend it for a good Christmas read. It's definitely a four-tea-cupper!"
—
RebeccaReads.com
FaithWords, 9781546010395, 224pp.
Publication Date: October 2, 2018
About the Author
John Snyder is the author of the heart-warming book The Golden Ring -- A Christmas Story, and is a member of The Authors Guild. Before retiring he owned and operated an award-winning public relations/advertising/sports marketing firm in the Baltimore, MD/Washington, DC Area for nearly twenty-five years.

In 1981 John founded his own marketing firm, which specialized in public relations, sports marketing, and advertising. The Snyder Group, Inc. developed and implemented national award-winning marketing campaigns for regional and national corporations. His firm has also worked with and represented some of the world's top professional athletes, sports franchises (including The Washington Capitals of the NHL, The Washington Bullets of the NBA, and top INDYCAR teams, NASCAR teams and teams in other prominent racing series), as well as nationally televised sporting events.

When not writing, John's interests and hobbies include spending time with family and friends, camping, hiking, golf, auto racing (he has raced karts -- capable of speeds in excess of 100mph, pit crewed in the Indianapolis 500, and operated the driver communications board from the wall at the edges of speedways across the United States for his former client, two-time Indy 500 winner and national auto racing champion, Al Unser, Jr). John lives in Mocksville, North Carolina (just West of Winston-Salem) with his wife, Ruth Ellen.
or
Not Currently Available for Direct Purchase