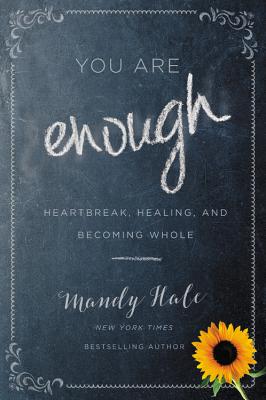 You Are Enough
Heartbreak, Healing, and Becoming Whole
Hardcover

* Individual store prices may vary.
Other Editions of This Title:
Digital Audiobook (10/22/2018)
Paperback (12/17/2019)
Compact Disc (10/23/2018)
Compact Disc (10/23/2018)
Description
Mandy Hale, the creator of The Single Woman, the social media movement that rewrote the rulebook about singleness, challenges every woman to see that she is sufficient, acceptable, and complete.

After years of trying to prove she was enough in the world's eyes, even working alongside Oprah and hitting the New York Times bestseller list, Mandy hit rock bottom. But as it turned out, that very rock bottom became the most firm foundation she had ever planted her feet on. A foundation so solid, it finally provided the springboard she needed to outrun the taunting shadow of unworthiness that she'd tried to escape her whole life.

Now she wants readers to see that though life may not always be lighthearted and happy and shiny, each woman is deserving of the life she dreams of and hopes for. Nothing readers do can ever take away from their worthiness or enough-ness in God's eyes.

This book is for any woman who wants to overcome heartbreak, claim her healing and step into wholeness!
Praise For You Are Enough: Heartbreak, Healing, and Becoming Whole…
"We might chase money or power or love, but all of those are just symptoms of our never-ending search for one thing-enough. To be enough. To matter enough. To be whole enough. I'm thrilled Mandy is bravely jumping in to discuss this small little world that causes big problems."—Jon Acuff, New York Times bestselling author of Finish, Give Yourself the Gift of Done

"Mandy finally says out loud what so many of us try so hard not to think about ourselves. Her raw, real, brave honesty is infectious. Read. Absorb. And be free!"—Christi Paul, CNN Weekend New Day Anchor, HLN anchor, author of Love Isn't Supposed to Hurt

"I love Mandy for being transparent enough to go deep into the hidden places we don't want anyone to see. Baring her flaws, her hurts, and her soul give me the courage to face the imperfect things I hide behind my smile. Mandy is the only author I know who fearlessly tackles the question Why are we still single? She goes beyond the tired clichés and gets to the root of the problem and shows you how to get back up even when you constantly get knocked down. The words coming from Mandy's heart are like a soothing balm. Thank you for showing me no matter what, I am enough."—Sherri Shepherd, actress, comedian, Emmy Award-winning talk show host and New York Times bestselling author

"Even though Mandy is known by millions for being the inspirational voice for single women, this book is a must-read for all adults, regardless of their marital status. In her unique heartfelt and authentic way, she shares her latest emotional journey in the pursuit of true love and personal fulfillment and reminds us that stumbling, crying, doubting, thinking, laughing, and learning along the way is expected. It's real, which means you're real-and that you have been, and always will be, enough."—Amy Capetta, health and wellness writer

"Mandy's words are empowering and inspiring. She acknowledges that adversity is something we all face-but by accepting and loving who we are, we can overcome any personal obstacle we encounter."—Derrick Levasseur, TV personality and author of The Undercover Edge

"In a world where we are often subjected to the carefully curated, seemingly perfect version of other people's lives, Mandy Hale's You Are Enough takes us on a journey of self-discovery that is powerful and refreshingly authentic! Her story is equal parts relatable and inspiring, and I hope every woman who has ever had a moment of self-doubt (most of us) has the chance to read this book so that it can serve as a beautiful reminder that they are indeed (more than) enough!"—Devyn Simone, TV host, dating coach, matchmaker

"Mandy has done it again: You Are Enough is a timely and timeless reminder to women everywhere that you are fearfully and wonderfully made. That you alone are good enough: with a spouse, without a spouse, it does not matter. And that truly, once you love you, and know your value...everyone else around you will know the same."—Sophia A. Nelson, award-winning NBC journalist and best-selling author of The Woman Code

"Wow! What a beautiful, brave, and inspiring book. Mandy Hale has been through it all-heartbreak, loss, self-doubt, questioning of all she held dear-and has come out so much stronger and more beautiful on the other side. Her journey inspired me to remember that, yes, I too am enough! Any woman who has weathered dark times in her life (and who hasn't?) will find a kindred spirit in Mandy and great comfort in her words."—Francesca Hogi, Life and Love coach

"I think sometimes people are afraid to be real with their readers. I think they want to help us but aren't willing to share their entire journey. This book is so refreshing. I finally see someone's complete process and I find so much of myself in there. I finally see the beauty of the journey and I realize the freedom in Mandy's honesty. Because of that, I am truly able to see that through it all, I am enough. "As a single woman, I am SO grateful for Mandy's transparency. It's real, raw and inspiring! This book easily connects to so many of us who have been or are going through some of the same things. It's amazing to be reminded that, through it all, you are enough!"—Melinda Doolittle, singer, author, TV personality

"This book literally made me both smile and cry. But mostly it made me feel understood. Less alone in this world. Mandy Hale writes in the voice of a dear, kind friend, filled with encouragement and urging the courage we all need to soldier on in life. Everyone's circumstances are unique, but You Are Enough contains a strong message of not giving up no matter who you are or where you are in life. I will be recommending this book to everyone!"—Beth Harbison, New York Times bestselling author
FaithWords, 9781546012344, 176pp.
Publication Date: October 23, 2018
About the Author
Blogger turned New York Times bestselling author and speaker, Mandy Hale is affectionately known around the world as the creator of "The Single Woman," made famous by her blog handle. With a heart to inspire people to live their best lives and to never, ever settle, Mandy cuts to the heart of the matter with her inspirational, straight-talking, witty, and often wildly humorous take on life and love. Mandy's message reaches literally millions of women across the world every day through her blog, books, and social media platforms.

Invited by Oprah to cover her Lifeclass: the Tour events as part of OWN's "VIP Press Corps" in 2012, Mandy has been named a "Twitter Powerhouse" by the Huffington Post, a "Woman of Influence" by the Nashville Business Journal, and a "Single in the City" by Nashville Lifestyles magazine. She has also been a featured in Forbes magazine, the Huffington Post, and on Glamour.com, Fox News, the 700 Club, and many other outlets. Mandy lives in Murfreesboro, Tennessee.
or
Not Currently Available for Direct Purchase