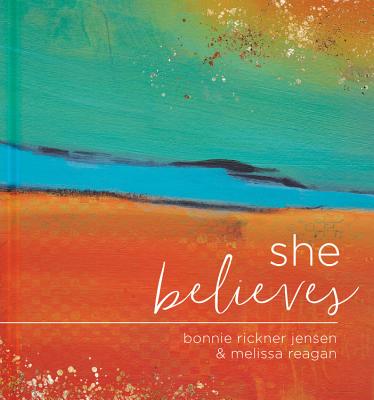 She Believes...
Gift Book
Hardcover

* Individual store prices may vary.
Description
Focus on what you believe with this powerful gift book that reminds you of your incredible capacity to make a difference in this world.

You have been designed for greatness. God has give you a courage and strength to pursue your passions and accomplish His purpose. But it is not always easy. On the days when doubt creeps in, find motivation in the "She believes" statements and Scripture on every spread of this beautiful gift book.
She believes that her journey will take her to the place she belongs... and God's best will be there to meet her.
She believes that everything happens for a reason and that there is always something new to learn and something new to teach.
"Patience develops strength of character in us and helps us trust God more each time we use it."-Romans 5:4 TLB
Open this little book to any page, any day, and be reminded of what you believe and Who you believe in. You'll find joy for the good days, hope for the bad days, and encouragement for every day so you can embrace your incredible capacity to make a miraculous difference in this world.
FEATURES:
Beautiful soft touch and foil cover
Four color, high design interior
Scripture to support each She Believes... message
Perfect for any gift-giving occasion such as Easter, graduation, Mother's Day, or birthdays
Ellie Claire Gifts, 9781546014522, 96pp.
Publication Date: February 25, 2020
About the Author
BONNIE RICKNER JENSEN is a bestselling author who has written more than thirty children's and gift books. She is the writer behind the bestselling Really Woolly® brand, with more than a million books sold and an ECPA Gold Award-winning Really Woolly Bedtime Prayers. She is currently working on a sequel to her recent release God, I Know You're There which is available in four languages. Bonnie's inspirations are her three beautiful daughters and six amazing grandchildren. Originally from Napoleon, Ohio, she now writes from her little office in Port Saint Lucie, Florida, where you'll find stacks of picture books, the sound of Mozart, and stashes of dark chocolate.
MELISSA REAGAN is an ECPA Top Shelf Book Cover Award-winning designer type who loves to write almost as much as she loves to design stuff. She most recently contributed to the book Winds of Heaven, Stuff of Earth by Andrew Greer, but has also been known to pound out riveting blog entries as well as engaging Facebook posts, though she hardly ever tweets. She is currently living out her dream life in Nashville, Tennessee.
or
Not Currently Available for Direct Purchase