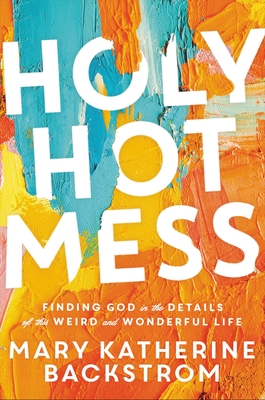 Holy Hot Mess
Finding God in the Details of this Weird and Wonderful Life
Hardcover

* Individual store prices may vary.
Other Editions of This Title:
Digital Audiobook (8/2/2021)
Compact Disc (8/3/2021)
Description
In this National Bestseller, Mary Katherine Backstrom shares heartbreaking and hilarious stories of how God uses each "mess" in our lives to bring us closer to Him. She shows us that it's okay to celebrate exactly where we are right now—holy, hot mess and all.

A lot of people struggle with the concept of being holy. But the fact is, even the hottest of messes are being shaped—right now—into Jesus' likeness. In this book, Mary Katherine shares the sometimes-hidden evidence of God's work in her life and shows you that it's okay to embrace the hot messes.
 
Mary Katherine will share both hilarious and vulnerable stories about faith, friendships, motherhood, marriage, and depression. She will cover the topics that plague our hearts every day with raw, honest truth and a side of laughter. Mary Katherine invites you into her story as a friend, encouraging you to embrace the hot messes in your life. Because we are all a work in progress, and as long as we are alive, we are under construction—and construction sites tend to be messy.
Praise For Holy Hot Mess: Finding God in the Details of this Weird and Wonderful Life…
Mary Katherine Backstrom's words are so immediately engaging, so filled with humor, and so seemingly effortless, that they their depth and insight sneak up on you. She has a way of cutting through the flowery facade of religious-speak and allowing us to reach the unvarnished heart of what it is to live as a real human being with an authentic, broken-in faith. This is a beautiful travel guide through the messy places.
 —John Pavlovitz, Author, Pastor, Activist

In Holy Hot Mess, Mary Katherine takes us on an unabashed and authentic ride through stories both humorous and heart wrenching. MK is all at once relatable, witty and touching. I recommend this book as an example of relentless faith that is relatable and inspiring for all.
 —Colin Balfe, Founder of Love What Matters

 Holy Hot Mess couldn't have come at a more perfect time in my life. I often forget that all of the things happening in my life are for a reason, even if it doesn't make sense at the time. Mary Katherine uses her humor to share hilarious and at times heartbreaking personal stories that remind each of us that there is a beautiful plan unfolding in our lives, and it's bigger and more beautiful than we can fathom. Every heartbreak and obstacle has a purpose, and after reading her book I will surely be switching my perspective and reminding myself that nothing is in my control. Thank you for reminding me that all of us are a hot mess at different points in our lives, some just hide it better than others.
 —Tiffany Jenkins, Founder of Juggling The Jenkins, best selling author of High Achiever

Mary Katherine Backstrom doesn't sugar coat nor does she hold back on the messy truths of her life. It's not because MK doesn't care, it's because she cares so much. Reading this delightful and funny book is a little bit like grabbing coffee and a side of therapy with your slightly sassy southern best friend who is also best friends with Jesus. 
 —Jen Mann, New York Times Bestselling author of Midlife Bites: Anyone Else Falling Apart, Or Is It Just Me?

Life, like my good friend Mary Katherine, can be very messy. If you are a member of the hot mess club, you will enjoy this book. Faith and love of the Lord don't have to look polished to be genuine.
 —Meredith Masony Bestselling author of Ask Me What's For Dinner One More Time

Mary Katherine Backstrom's writing makes every mama want to stand up and shout AMEN!!! She is so authentic and relatable. Every sentence feels like a fun, hilarious, honest chat with your BFF. A BFF who isn't afraid to admit her life is a hot mess! And really, who needs any other kind of friend?
 —Deva Dalporto, @MyLifeSuckers

Mary Katherine has a way of cutting straight through the pretension and polish to get to the messy middle of life's big questions. As a fellow mother and person of faith trying to navigate all the things, I can't help but nod along with her stories and personal revelations-as well as laugh out loud at the hilarious situations she finds herself in. Anyone seeking solidarity and support in their own imperfect journey will appreciate the raw honesty, relatable humor, and real heart of Holy Hot Mess.
 —Annie Reneau, Associate Editor, Upworthy
Worthy Books, 9781546015499, 240pp.
Publication Date: August 3, 2021
About the Author
Mary Katherine Backstrom is an award-winning, bestselling author and influencer, best known for her viral videos and candid writing on family, faith, and mental illness. She has been featured on Today Show, CNN, and New York Times—but her friends and family are most impressed with her one-time appearance on Ellen. MK resides in Alabama with her husband, children, two dogs, and a cat. When she isn't writing, MK is active in her church, her community, and her favorite Mexican restaurant.