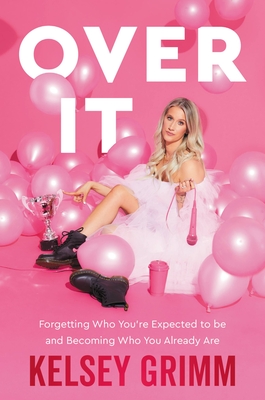 Over It
Forgetting Who You're Expected to Be and Becoming Who You Already Are
Hardcover

* Individual store prices may vary.
Other Editions of This Title:
Compact Disc (9/21/2021)
Description
A beloved musician shares her heart-wrenching story about how an abusive relationship helped her realize the importance of gaining freedom, letting go of expectations, and embracing the beautiful reality of who you already are.
 Unspoken expectations surround us. In culture, in the church, and in general. If they weren't pushed on you as a child, you're now scrolling through them as an adult. You should look like this, talk like that, dress like them. Own a house that looks like Joanna Gaines just decorated. Be as fit as your favorite Instagram mom, who somehow works out on her Peloton while balancing a newborn on one hip and her side hustle on the other. And, by the way, are you really in counseling this early in your marriage? The expectations surrounding us, particularly women, are ridiculous. What if we didn't try to fulfill them and instead started believing the promises Jesus fulfilled? What if we didn't cave to the expectation to look and behave how people want us to, and started looking at ourselves the way God sees us? What if we didn't do everything the way we've always been told it has to be done, and started walking in bold, audacious faith? In Over It, Kelsey Taylor Grimm doesn't show her best and hide the rest. Through the transparent telling of her own story, from an extensive, sexually and emotionally abusive relationship, to her ascension in the music industry, she invites you into her living room to talk through the ridiculous expectations of who you're supposed to be, and encourages the reader to embrace the beautiful realities of who you already are. 
Praise For Over It: Forgetting Who You're Expected to Be and Becoming Who You Already Are…
In a world that sends an 'unspoken message of perfection' Kelsey's sweet spirit and willingness to share her vulnerable story of shame and self-discovery is a breath of fresh air.  I'll take an authentic read of personal experience, hard work & triumph any day of the week!
 —Heather Land - Comedian, Author & Recording Artist

To me, this is more than a book.  It's words out of my own mouth!  Even with our differences, we feel the same systematic pressure.  I cried and laughed all in the same chapter.  The message of this book is a must hear!
 —Cara Clark - Nutritionist, Author & TV Personality

I'm a fan!  Anyone brave enough to get this honest & real is a force to be reckoned with.  For all of us who need a shot of courage, truth & grace - this book is a must.  Well done Kelsey!
 —Grace Valentine - Author, Podcast Host & Speaker

It takes courage and kindness to look back on the things that broke us. Kelsey's story is a reminder that every fragment of our life matters and can be reconciled.
 —Moriah Smallbone - Recording Artist, Producer & Podcast Creator

I relate to this message on such a deep level.  In this book, Kelsey breaks loose the shackles of expectations that many of us women carry every day.  We have been taught to prove ourselves and strive for acceptance.  But along with Kelsey, I'm OVER IT.
 —Madison Prewett - Author, Speaker & TV Personality
Worthy Books, 9781546015666, 272pp.
Publication Date: September 21, 2021
About the Author
Kelsey Grimm is known by most, as a singer/artist alongside her husband Caleb, in their duo Caleb + Kelsey. She is mama to their two precious boys, Emmett age 3 and Beckett, age 1. Kelsey considers herself a stay-at-home mom as the majority of her time is spent raising her babies and making the house a home in their hometown of Nashville. She is also fervent about marriage and the quest for true intimacy with the person you're doing life closest with. It's hard and messy but 100% worth fighting for. Kelsey and her husband Caleb have planted roots at a church home in Nashville that has provided a place for them to heal, serve, and grow deeper in their ever changing and evolving relationships with Jesus.