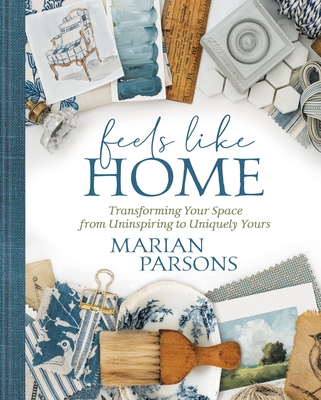 Feels Like Home
Transforming Your Space from Uninspiring to Uniquely Yours
Hardcover

* Individual store prices may vary.
Other Editions of This Title:
Digital Audiobook (10/11/2021)
Compact Disc (10/12/2021)
Description
Discover how to achieve your dream home on an affordable budget using these inspiring pictures, practical tips, and easy-to-implement tutorials.
 
Most of us don't live in a dream home that was custom built to suit our tastes. We have to work with a house that brings its own style, quirks, and personality to the table. But imagine walking into this house, but it's perfectly designed and decorated with your style in mind—a home that fits you like a well-tailored outfit and yet is as comfy as your favorite pair of pajamas.
 
What would that home look like exactly? How would it feel to live in a home styled specifically for you?
 
The truth is, every home should feel like a custom home and not have to break the bank. In Feels Like Home, DIY makeover queen Marian Parsons (a.k.a. Miss Mustard Seed) teaches you what she's learned over the years, sharing budget-friendly practical tips that will inspire you to change your space from "blah" to beautiful, from a builder-grade to character-rich home. Each chapter will guide you through detailed, easy-to-implement tutorials for projects, makeovers, decorating ideas, and tips for handling common challenges. Special note-taking spaces are also included for recording your own design ideas. Room by room, you will be empowered to transform your house into the home of your dreams!
Praise For Feels Like Home: Transforming Your Space from Uninspiring to Uniquely Yours…
"Whether it's her interiors or her art, Marian's work epitomizes timeless style rooted in authenticity, great taste, and casual elegance. Everything is inviting and comfy, while elevated and approachable at the same time."
—
—Brian Patrick Flynn, interior designer HGTV Dream Home
"Marian Parsons, aka Miss Mustard Seed, is that best friend with great taste every homeowner wishes for. Is there nothing this woman can't do? She paints both furniture and walls; upholsters; sews curtains, bed linens, slipcovers, and even dog beds; and is unafraid to tackle carpentry, tiling, and furniture stripping. In over a decade's worth of blog entries, she's provided her fans—including me—with common sense, attainable tips for DIY home design. Lately, we've watched as she and her husband transformed a blah, builder-beige, thirteen-year-old tract house into a gracious, warm, and inviting sanctuary for their young sons, a big dog, and two mischievous cats. Now, with Feels Like Home, Marian has gifted us the ultimate design handbook with sound advice, simplified tutorials, and yes, her trademark gorgeous photography. Feels Like Home is the last decorating book this decorator-in-denial will ever need."
—
—Mary Kay Andrews, New York Times bestselling author of The Fixer Upper; Hissy Fit; Hello, Summer; and The Newcomer
"Feels Like Home is an authentic story of how, regardless of your circumstances or your location, the very essence of home is in your heart and in the love that you share there.
"For creatives, often part of the dream for a home is to have a special separate place in which to create, to lose oneself, and to make the impossible possible. But as Marian says, it is not what your home gives to you, but what you create with it and in it that is the foundation upon which your life is built. The reality is that most creatives dream of their own sanctuary but, even if that dream is indeed their reality, you will often find them at the kitchen table, the heart of any home, creating and sharing what they love with those they love most.
"Like Marian herself, her book is beautiful, hopeful, personal, and inspiring. Regardless of what feels like home to you, this is a resource, a handbook, and an inspirational guide to help you create exactly what feels like your home for you and those that will share it with you."—
—Jo Packham, creator and editor in chief of Women Create magazines
"For those of us who find ourselves still not living in the character-filled house of our dreams, this is the guidebook to our dreams."
—
—Myquillyn Smith, New York Times bestselling author of Welcome Home
"Do you dream of living in a completely custom home made just for you? Does that seem impossible? Well, Marian, aka Miss Mustard Seed, has proven in Feels Like Home that designing your dream home isn't a far-fetched idea and is in fact obtainable for everyone who follows her helpful tips in this guidebook filled with all her secrets. You will want to keep this book handy at all times as you are on the journey to make you house your home!"
—
—Liz Marie Galvan, author of Cozy White Cottage and blogger at LizMarieBlog.com
"Marian speaks to my home-loving heart. Creating an environment you love to live in is an adventure! We all start from a unique place, right where we are. The path will have some twists and turns, but the home you create will nurture your heart and soul in a way no other journey can. This book will become a well-loved staple in your library, inspiring you with ideas to make any house feel like home."
—
—Melissa Michaels, New York Times bestselling author of Love the Home You Have, The Inspired Room, and Dwelling
"If designing your home makes you feel like you're living a Cinderella story, Marian's tips and advice, based on true experiences from designing and styling her own builder-grade homes, are about to make your fairy tale ending come true."
—
—Kim Leggett, author of City Farmhouse Style and Home Stories
"Feels Like Home offers the encouragement and guidance needed to help you create a home that reflects your unique style and gives you a sense of belonging when you walk through the doors."
—
—Heather Bullard, editorial prop stylist
"Feels Like Home is full of ideas, inspiration, and encouragement for finding your style and learning how to decorate your space and make it your own. Marian shares her years of expertise, tips, and advice, along with DIY projects, and shows how to take any style of house and create a welcoming, beautiful home that is perfect for you."
—
—Courtney Allison, author of French Country Cottage and FrenchCountryCottage.net
"When I first came across Marian's blog years ago, I was stunned. She was creating my dream home on a budget with creativity and innovation. I was hooked! Friends, it's finally here: the book we've been waiting for. Feels Like Home is more than a book; it's a guide. Marian walks alongside us to create a truly livable, lovable space where we can thrive. This book will help you create the space you've dreamed of so you can create the life you've dreamed of!"
—
—Lisa Leonard, jewelry designer and author
"If you are looking for creative, concrete, simple ways to fall in love with your house again, Miss Mustard Seed has put together the perfect guide. From learning how to tell your home's story to ideas and tips for all the rooms and furnishings, this book is full of inspiration from cover to cover. The words and the pictures provide a roadmap to bring your vision for your home to life. I highly recommend Feels Like Home as a must-read for anyone looking to decorate their spaces from the heart out."
—
—KariAnne Wood, author and blogger at ThistlewoodFarms.com
Worthy Books, 9781546015833, 304pp.
Publication Date: October 12, 2021
About the Author
Marian Parsons is a pastor's wife, mother of two boys, paint enthusiast, and lover of all things home. She started Mustard Seed Interiors in 2008, as a way to earn extra money for groceries. What started out as a one-woman decorative painting and mural business evolved into an antiques business that tripped into a blog and blossomed into a successful international brand.

Miss Mustard Seed first published on a blog on a whim in 2009. Marian wanted to advertise her fledgling business, but also wanted to connect with like-minded readers and other DIY/Home bloggers. The decision was made early on to turn her blog into a valuable resource, filled with tutorials, practical advice, encouragement and a dose of reality. Some of the blog series cover making slipcovers, painting furniture, before & after inspiration, and decorating tips & tricks. While the focus has been on the home, the heart of this blog has always been providing encouragement and inspiration to women in the areas of decorating, homemaking, and creative endeavors.