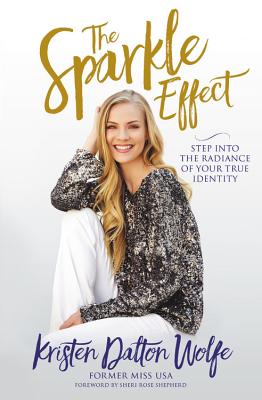 The Sparkle Effect (Paperback)
Step into the Radiance of Your True Identity
FaithWords, 9781546031765, 320pp.
Publication Date: October 2, 2018
* Individual store prices may vary.
Description
Former Miss USA Kristen Dalton Wolfe inspires women to believe that positive identity transformation and fulfillment in life is possible in Christ.
The world is waiting to experience the gifts of each and every daughter of the King. But how do you rise to your calling when so commonly burdened by insecurity, discouragement, or lack of self-belief? The Sparkle Effect is a guide to the total, positive identity transformation that is possible in Christ. It will empower you with the confidence to achieve your biggest dreams and live fulfilled like never before. Once you stop wasting your time trying to meet worldly standards of beauty and success, stop feeling unworthy, and stop hiding in the shadows of your life, you will be open to claim your divine destiny.

"You have an extraordinarily unique brand of beautiful with which God wants to paint this world. Kristen shows us how to believe it, embrace it, and live it with the biblical understanding of who we are created to be."
--Lysa TerKeurst, New York Times bestselling author and president of Proverbs 31 Ministries

About the Author
KRISTEN DALTON WOLFE is a former Miss USA and the founder of SheIsMore.com, an inspirational online magazine that impacts more than 400,000 readers every month. She leads a women's ministry, She Gathers, which hosts weekly meetings, monthly gatherings, and annual retreats and conferences. Kristen is also a faith based personal success coach. She and her husband, Kris, are motivational speakers and live in Los Angeles with their daughter, Aurora.
Praise For The Sparkle Effect: Step into the Radiance of Your True Identity…
"You have an extraordinarily unique brand of beautiful with which God wants to paint this world. Kristen shows us how to believe it, embrace it, and live it with the biblical understanding of who we were created to be."—Lysa TerKeurst, New York Times bestselling author and president of Proverbs 31 ministries

"This book is a magical read that conveys the truth of who you are, what you deserve, and what you have access to as God's daughter in a new, refreshing way."—Bianca Juarez Olthoff, freedom fighter, speaker, and bestselling author

"Kristen...[equips] women to truly embrace who we are meant to be--not who the world expects us to be. Every girl should read these words!"—Jordan Dooley, author, speaker, and founder of Soul Scripts

[Kristen's] message in this book is absolutely necessary in these times of self-doubt and fear.—Leven Rambin, Glimmer, The Hunger Games


"With this book, not only will you learn to love yourself and learn how to sparkle, but you will know just how loved you are by our heavenly father."—Greer Grammer, actress, MTV's Awkward, ABC's The Middle



"[Kristen's] words
are encouraging and honest, and will be a great help to the reader! You will
feel like you have spent time with a friend!"—Holly Wagner, pastor at Oasis Church, author of GodChicks and Find Your Brave, and founder of She Rises conference

"A must-read for every woman. Whether you are personally struggling with self-worth or on the journey to embrace all God has for you, this book will be your guide."—Tammy Hotsenpiller, founder and president of Women of Influence

"In a world where so many struggle with their identity and worth, Kristen's book offers keys to being a beautiful reflection of God's attributes inside and out."
—Michelle McKinney Hammond, author of The Power of Being a Woman and Emmy Award-winning TV host


"An inspiring guide to build up your heart to withstand criticism and judgement....Confidence found only in the arms of Christ is truly the 'Sparkle Effect,' and after reading this book you'll surely get your shine on!"—Alyssa Quilala, author, pastor, actress, and model

"This book shares the necessary tools and truths that can help women of all ages begin to uncover who God made them to be!"—Spencer Locke, Jane, Tarzan