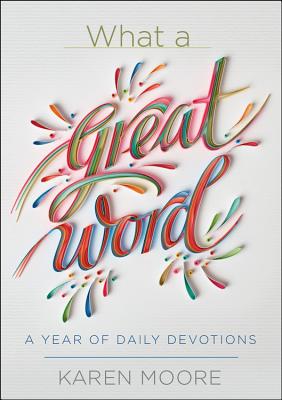 What a Great Word! (Hardcover)
A Year of Daily Devotions
Faithwords, 9781546031956, 384pp.
Publication Date: December 4, 2018
* Individual store prices may vary.
Description
"What a Great Word is a beautiful way to spend a few minutes each day focusing on what is really important and growing into the person God created us to become." -- Jean Ziglar, wife of Zig Ziglar
WHAT A GREAT WORD is a new kind of devotional. With Scripture and fresh insights from author Karen Moore, readers are able to focus on one word each day to strengthen their faith and see God's hand at work.
These are simple words, words we use every day that we often gloss over when reading God's Word. If, for example, the word for the day is "protect," the reading from Psalm 121:6-8 declares: "The Lord will protect you from all dangers; He will guard your life." Readers will then see how the Lord protects our lives. He is the One who defends us, guards us, and keeps us safe.
With one simple word, readers will move from hoping the Lord will protect us, to believing He will act on our behalf. Now that's a Great Word.
About the Author
Karen Moore has nearly 100 published books in the inspirational and devotional, Bible promise, children's books, and "how-to" categories. Her best-selling devotionals range across several titles, including: A Taste of the Spirit, Becoming a Woman of Worth, and Every Day Is Mother's Day. She's a speaker, an author coach, and a content provider for the Christian industry. Karen lives with her husband in Nashville, Tennessee. Follow Karen at karen-ann-moore.com.