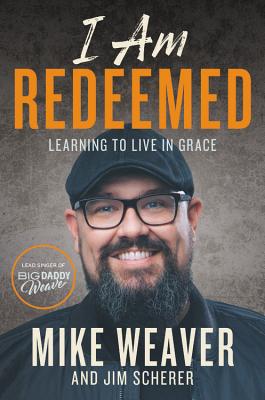 I Am Redeemed
Learning to Live in Grace
Hardcover

* Individual store prices may vary.
Other Editions of This Title:
Digital Audiobook (9/2/2019)
Description
Mike Weaver, lead singer of Big Daddy Weave, shares from personal experience how when all we can see is our struggles and failures, God reminds us of who we are. . . . His children. Loved. Set free. Redeemed.
I Am Redeemed is an open book of Mike Weaver's life, bringing into the light everything from his battle with self-hatred to the near death of his brother and bandmate, who ultimately had both feet amputated to save his life. Mike shares the lessons learned in the loss of his father and dealing with the spirit of suicide within his band, Big Daddy Weave.
At the lowest of lows, with Mike feeling rejected and alone, God broke through to speak truth and life into him. Thankful for God's plan and timing and methods, he is especially grateful for the new identity Jesus had paid for on the cross. In spite of his faults and failures, Mike learned that only God can take the stuff you hate about yourself and use it to reach people.
Through the million-selling song "Redeemed" and now the powerful story behind it, as well as inspiration from Scripture, you will be encouraged to embrace God's redeeming grace so you, too, have the opportunity to be beautiful offerings to the Lord.
Praise For I Am Redeemed: Learning to Live in Grace…
"Knowing Mike nearly from the time both of our groups started, I've only seen his heart for the Lord grow stronger. His transparency and depth speak with love. I encourage you to read what Mike has to share in I Am Redeemed."—Bart Millard, Lead Singer of MercyMe

"Like Mike's chart-topping proclamation in the song 'Redeemed,' his road-to-redemption story through great personal challenge is equally inspirational. The music of Big Daddy Weave continues to impact countless lives-and you'll better understand why after you read Jim Scherer's riveting account of Mike's journey from self-loathing and questioning God to the liberating realization that we are all children of the King no matter what."—Matt Crouch, President and Chairman, Trinity Broadcasting Network

"Mike has always welcomed me with the greatest warmth, kindness, and humor. This book does the same. It is life giving."—Luke Smallbone, For KING & COUNTRY

"As with their music, the story that Mike Weaver shares in I Am Redeemed is one of grace, love, and redemption. As you read this book, I believe you will come away with a fresh and inspired view of how much the Father loves you and how His plans never fail. It's an honor to know Mike and to have shared in some of the moments in the journey of Big Daddy Weave over the years. Their partnership with K-LOVE is a special one indeed, and for that we are fortunate and thankful."—David Pierce, Chief of Ministry Partnerships, K-LOVE and Air1

"Betty and I love to hear Big Daddy Weave sing 'Redeemed.' It thrills the hearts of everyone, everywhere. Mike Weaver, the cowriter of that song, told me that when he was a boy, his dad was greatly impacted by my messages and our television broadcast. To God be the glory! Since then, God has used Mike's testimony to inspire and encourage people around the world. I believe his journey, which Mike shares with vulnerability in these pages, will help readers find freedom from their past failures-and point them to our Great Redeemer."—James Robison, Founder and President, Life Outreach International

"Since first touring with Mike sixteen years ago, I've been honored to see the way he loves everyone he comes in contact with. Through I Am Redeemed, he is able to share his story and the journey of the powerful song 'Redeemed.' And all the while he points to the grace and love of Jesus in a way that only Mike Weaver can. Way to go my friend!"—Rebecca St. James, GRAMMY Award-Winning Singer/Songwriter

"I've always known Mike Weaver as a prolific singer. How refreshing to see that he is just as anointed as an author. I'm thankful for the way that he led me in worship through the pages of this book."—David Nasser, Senior VP of Spiritual Development, Liberty University

"This book is a faithful reminder that even in our darkest days, God is still with us, helping us with the struggles that we may not understand in the moment. If we trust in Him during these challenges, His plans are always better than ours."—Zach Williams, GRAMMY Award-Winning Singer/Songwriter

"To the military veterans that Operation Restored Warrior (ORW) has the honor to work with, I often say, 'The glory of your life is in direct proportion to the assault set against it!' That statement could not be truer for Mike and Jay Weaver. Through all that has been set against the Weaver brothers, the gift of their life-changing songs has been birthed. The world is a better place because of Big Daddy Weave and their music. If you read one book this year, make it I Am Redeemed. You will laugh and cry through it all, and you will be blessed and embraced by the loving grace of Jesus."—Paul Lavelle, CMSgt, USAF, (Ret), MSC, and Founder of Operation Restored Warrior

"I Am Redeemed is Mike Weaver's beautiful and moving testimony to his lifelong walk with Jesus. We at World Vision are grateful for the thousands of lives he and his Big Daddy Weave bandmates have touched, sparking transformation not just for the children who are sponsored but also for the concertgoers who hear about God's love for the poor. Mike honestly shares the ups and downs in his life, pointing to Jesus, who is ever faithful and has redeemed us and made us a 'new creation' (2 Corinthians 5:17)."—Edgar Sandoval Sr., President of World Vision U.S.

"In I Am Redeemed, we get a raw perspective from Mike Weaver, a man God uses to influence the world through his work with Big Daddy Weave. It is so refreshing to see his transparent, unfiltered journey of the internal struggles we all face and how God has redeemed them. It encourages me to know that if Mike came through those struggles praising God, so can I. This book will inspire you to press into the power and understanding of our precious Jesus."—Autumn Miles, Author of Appointed, I Am Rahab, and Gangster Prayer
Worthy Books, 9781546033585, 224pp.
Publication Date: September 3, 2019
About the Author
Mike Weaver is a founding member and lead singer for Big Daddy Weave, one of Christian music's most beloved artists. A mainstay at radio, the band has achieved consecutive No. 1 singles, including "Love Come to Life," "Redeemed," "The Only Name (Yours Will Be)," "Overwhelmed" and "My Story." RIAA Platinum-certified "Redeemed" became an anthem of unprecedented impact when it spent 11 weeks at No. 1, was dubbed "Song of the Year" at the first annual K-LOVE Fan Awards, and earned Dove Award and Billboard Music Award nominations. Their follow-up hit, "The Lion and the Lamb," has become one of the genre's most streamed songs. They have released eight full-length projects, amassed more than one million units in album sales, and have received numerous honors, including a Dove Award, ASCAP and BMI Awards, and the prestigious Rich Mullins Artist Impact Award, among others. Their new single, "Alive," is out now and will appear on their upcoming album, set to release fall 2019. Mike Weaver lives in Nashville, Tennesse.
Jim Scherer is the founder and president of Whizbang, Inc., an artist management and music licensing company that has secured hundreds of placements in film, TV, video game, and advertising projects. Whizbang represents a diverse catalog of artists, composers and libraries of all genres from around the world. Their clients' music has been used by ABC, Lifetime, CBS/Paramount, Touchstone/Disney, NBC/Universal, Sony Pictures & TV, Universal Pictures, The CW, MTV, Cartoon Network, Nickelodeon, Discovery Channel, 20th Century Fox, Warner Brothers, USA Network, and more. The Whizbang, Inc. management division represents Grammy-nominated, award winning artists whose music and performances occur throughout the world.