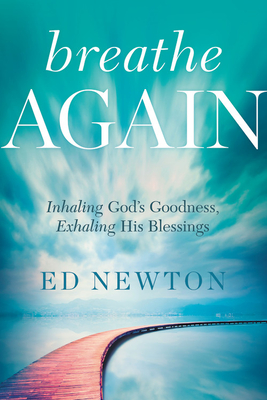 Breathe Again
Inhaling God's Goodness, Exhaling His Blessings
Hardcover

* Individual store prices may vary.
Description
By inhaling deeply God's love, grace, mercy, and so much more and then exhaling our praise to Him, we realize that a rich, abundant life is not about doing better but about recognizing that God is better.
We breathe because God gives us breath! We exist because God permits us! To inhale and exhale life is beyond a gift, it is an invitation to embrace a divine initiative that ushers promises of eternity to the here and now.
Many seem to be grasping for so much more in life. They long for a deeper reality of the eternal but continue to face frustration, failure, and fatal realities. Breathe Again is for anyone who is exhausted from their routine lives. For anyone whose rhythm of life is crying out for a fresh wind, a fresh voice, a fresh reality of divine calling and purpose. For those exhausted from their personal efforts to keep the family going in the right direction, to run that company, to lead that congregation, or to impact their campus.
Breathe Again is more than a motivational resource that simply challenges people to be more dedicated, disciplined, or devoted. Ed Newton helps readers realize a rich, abundant Christian life is not about doing better; instead, it's all about recognizing that God is better. He is better than all our empty attempts to create new and improved selves. Just as our Creator did when He breathed life into Adam, when He brought Scripture to life, or when Jesus breathed out His last breath so we could breathe in His salvation, God's supernatural intent and desire is to breathe upon your life for the purpose of a divine awakening.
Worthy Books, 9781546033622, 176pp.
Publication Date: April 7, 2020
About the Author
Dr. Ed Newton was raised in a deaf world. The only child of two deaf parents, Ed was the voice in the silence for them. Through difficult circumstances and major hardships, Ed was radically saved in high school. It was through the spoken word of others and the written Word of God that clarified a call to ministry as a senior in high school.
He is now the lead pastor of Community Bible Church in San Antonio, Texas. With a congregation of 13,955, according to Outreach magazine, in 2018 it was the 19th largest church in America and the 73rd fastest-growing congregation (16th fastest-growing church in 2017). When adding the online community, the church reaches nearly 30,000 people each week.
Ed holds a Doctor of Ministry in Pulpit Communication degree and a Master of Divinity degree from Trinity Theological Seminary (Newburgh, IN) and a Master of Religious Education from Mid-America Baptist Theological Seminary (Memphis, TN). Ed and his wife, Stephanie, have four children: London, Lola, Liv, and Lawson and live in San Antonio, Texas.
or
Not Currently Available for Direct Purchase