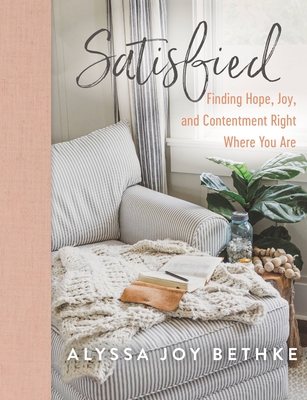 Satisfied
Finding Hope, Joy, and Contentment Right Where You Are
Hardcover

* Individual store prices may vary.
Other Editions of This Title:
Digital Audiobook (6/14/2021)
Description
Stop focusing on what you lack and start feeling grateful and satisfied with what you have! Touching on topics like fear, worry, dissatisfaction, anxiety, and body image, Alyssa Bethke walks you through issues that rob you of your joy and helps you recognize them for what they are: distractions. With all of its expectations and contradictions, this world can take a major toll on us. Be skinny, but not too skinny. Work and hustle but stay home and be a good mom. Be wild and free while tidy and pure. Love your husband but be independent. In Satisfied, Alyssa Bethke shares a compelling collection of relatable essays that will help you embrace and cultivate beauty in your life. Along with healthy recipes and cozy home images, Satisfied will provide you with the knowledge that you are not alone in your fight to be fulfilled. Alyssa shows you the ways in which you are enough—not only for those around you, but for yourself. 
Praise For Satisfied: Finding Hope, Joy, and Contentment Right Where You Are…
"Simple yet powerful, Alyssa has written a timely message for us women who find ourselves in a season of mundane, waiting, or hoping. Every woman needs this book!"
—
- Jordan Lee Dooley, National Bestselling Author of Own Your Everyday
"God created us for sisterhood…for family. Each of us needs a sister to talk us through the murky and the mundane to remind us of hope and of Him. Alyssa is that sister—gently inviting us into the "more" that God has for us right in this moment. Her warm, vulnerable words made me not want to put this book down; they made me want to keep learning from this friend, this sister."
—
—Sara Hagerty, bestselling author of Unseen: The Gift of Being Hidden in a World that Loves to be Noticed and ADORE
"The pages of the exquisitely beautiful Satisfied are a feast for the eyes and the recipes a feast for the body, but it is the words, couched in the timeless wisdom of Scripture, that provide a transformational feast for the soul. Whether she's writing about the blessing of laughter or the ache of her own loneliness, Alyssa invites us to step into our Heavenly Father's embrace, knowing that he takes great delight in us and that his deepest longing is to open his hand and satisfy our desires. Buy this one in bulk because once you've tasted—and savored—its goodness, you'll want to give Satisfied to all of your friends!"
—
—Jodie Berndt, author of the bestselling Praying the Scriptures book series
"As a young mom facing all the distractions, demands, contradictions, opinions, and pressure from outside voices this book will help you tune into the voice of truth—who God says you are and who He is inviting you to be. If you've ever struggled with discontentment in your day-to-day, impatience in pursuit of a dream, or the feeling that something or someone will fix your problems or satisfy your longings, these pages are written for you. Through relatable stories, Alyssa opens your eyes to all the little ways God is inviting you to be comforted, encouraged, and satisfied by Him."
—
—Audrey Roloff, New York Times bestselling author of A Love Letter Life and co-founder of The Marriage Journal
"Alyssa's book Satisfied is for every woman in the middle. In the middle of raising their family, the middle of their dreams, the middle of heartache or joy, the middle of their walk with Jesus. It is real and relatable, and it reads like a long coffee catch-up with a friend. It is a great reminder that God uses our stories to bind us together and grow in our love for him."
—
—Tindell Baldwin, author of Popular
"We can easily get sucked into the trap of comparison or look behind at what life used to be like or even what life could have been. Alyssa Bethke unveils within these pages what the truth is and where it lies. Finding contentment in Jesus is a daily struggle and sacrifice that is made more approachable by this book. With vulnerability, she beautifully shows us how to move forward with grace, love, and joy that only comes from our intimate walk with Jesus."
—
—Jennie Lusko, bestselling author and co-lead pastor of Fresh Life Church
"At the end of a long, tiring day, I love to curl up and read something cheery that gives me hope. Alyssa's Satisfied is just this. Warm, inviting, hopeful, like a cozy cup of tea, this book is a little picture of Alyssa as 'herself'! highly endorse, highly recommend!"
—
—Jessica Smartt, author of Memory-Making Mom and Let Them be Kids
"If anyone lives and breathes this message, it's Alyssa. Satisfied will help you get back to the simple ways we can meet with God and see Him working right in front of us."
—
—Jennie Allen, New York Times bestselling author of Get Out of Your Head, founder and visionary of IF:Gathering
"This book is the perfect reminder that no amount of striving can ever amount to the peace, joy, and fulfillment that comes from God. Alyssa reminds us that God's smallest miracles can be found in the mundane day-to-day loop of life if we just look up from our phone screens long enough to notice. We can stop striving and be fully satisfied in being known and loved by God."
—
—Rebekah Lyons, speaker, teacher, and bestselling author of Rhythms of Renewal
Worthy Books, 9781546034049, 240pp.
Publication Date: June 15, 2021
About the Author
Alyssa Bethke is a mother of three children, Kinsley, Kannon, and Lucy, and a dog named Aslan. She and her husband, Jeff Bethke, live in Maui, and are bloggers, YouTubers, and hosts of The Real-Life podcast. Jeff and Alyssa are the New York Times bestselling authors of Jesus > Religion and It's Not What You Think and Love That Lasts. They are passionate about encouraging and strengthening families at familyteams.com a program that brings families together with the idea of becoming a team.