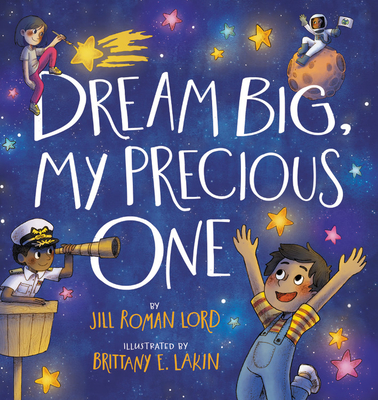 Dream Big, My Precious One
Hardcover

* Individual store prices may vary.
Description
Celebrate the hopes and dreams you have for your little one with this rhyming picture book that inspires children to dream big, work hard, and trust in God.
In Dream Big, My Precious One, a narrator wonders what a young child will enjoy as he or she grows up—sports, art, music? The narrator imagines all of the incredible things the child could become, from "a doctor or zoologist, a nurse or archaeologist" all the way to "a preacher sharing God's good news, a captain on a sailing cruise, a vet to cure sick kangaroos!" Upbeat and playful, this book will inspire children to passionately pursue their dreams, knowing that God will be with them every step of the way.
WorthyKids, 9781546034322, 32pp.
Publication Date: March 9, 2021
About the Author
Jill Roman Lord is an award-winning author and a nurse anesthetist. She won her first writing award in first grade and has written ever since. Her many children's books include If Jesus Lived Inside My Heart, One Night in Bethlehem,and God Made You Just Right. She lives in Charlotte, North Carolina, and enjoys running with her golden retriever, golfing with her husband and son, sipping coffee with her girls, and traveling.