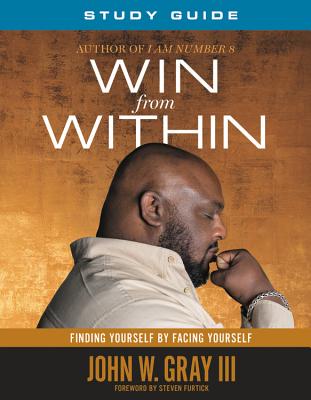 Win from Within Study Guide (Paperback)
FaithWords, 9781546035879, 128pp.
Publication Date: October 30, 2018
* Individual store prices may vary.
Description
The WIN FROM WITHIN Study Guide is an interactive companion to Pastor John Gray's WIN FROM WITHIN. It will help you identify and manage one of the most challenging, yet necessary battles we all face--our inner struggle to overcome the worst versions of ourselves.
A powerful tool to use alongside the book, the guide provides biblical and practical self-help guidance to push you to victory over your personal and inner challenges.
Every chapter in this study guide matches a chapter in WIN FROM WITHIN. Activities and journaling questions walk you through each chapter's content and help you apply Pastor Gray's teaching to your own life. And you are not alone! The study guide provides numerous opportunities to interact with others on the WIN FROM WITHIN journey via social media prompts. It all adds up to practical applications of the concepts learned in WIN FROM WITHIN. Content-specific prayers help you seal your efforts.
Winning from within means becoming the person you have always wanted to be, the person you have dreamed about becoming, the person God created you to be. Let this interactive study guide set you on your own winning path.
About the Author
JOHN W. GRAY III is the Senior Pastor of Relentless Church in Greenville, SC, and continues to serve as an associate pastor of America's largest single venue church, Lakewood Church, in Houston, Texas. He preaches primarily at Lakewood's midweek service where thousands converge each week. John was named to Oprah's Super Soul 100, a collection of 100 awakened leaders who are using their voices and talent to elevate humanity. His show, The Book of John Gray, airs on The Oprah Winfrey Network. John resides in Greenville, SC with his wife, Aventer, their children, John W. Gray IV and Theory Aspyn-Sky Gray.
Praise For Win from Within Study Guide…
"Most people monitor success by external responses; how many followers they have, how many likes they get, how many compliments they garner. But John Gray in his masterful book, Win From Within, offers a pragmatic practicum through which the reader will begin to understand that it does not matter how many accolades one gathers if you fail to Win From Within."—T. D. Jakes Sr., Senior Pastor, The Potter's House of Dallas, Inc. / TDJ Enterprises, New York Times best-selling author