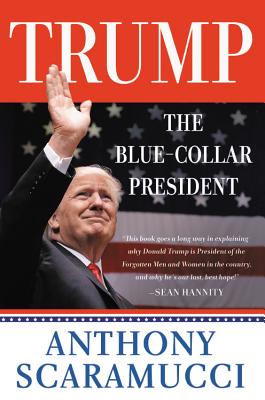 Trump, the Blue-Collar President
Hardcover

* Individual store prices may vary.
Other Editions of This Title:
Digital Audiobook (10/22/2018)
Paperback (4/23/2019)
CD-Audio (10/30/2018)
Compact Disc (10/30/2018)
Description
In an administration not known for its subtlety, no comet soared higher, burned brighter, or flamed out more spectacularly than Anthony Scaramucci. For eleven days (not ten, as widely reported, he'll tell anyone who'll listen) he ran the most important communications department in the world, the White House's. By the end of his short tenure -- several of the most tumultuous and formative days of the Trump administration -- he'd gone from a fairly well known on-air surrogate for the president to a household name, "the Mooch."

The rise and fall of the Mooch, which riveted the nation, unfolded like a Shakespearean play directed by Martin Scorsese. In his own inimitable voice, Anthony reveals the juicy details behind his stormy term as White House communications director. He holds nothing back and spares no one's feelings-including those of the country's most powerful people.

If political movements are best understood through a single human life, then there is no better life to tell the story of Donald Trump's rise in America than the Mooch's.

From Long Island Newsday paperboy, with the largest route in Port Washington, to Master of the Universe, as Tom Wolfe characterized his kind in Bonfire of the Vanities, Anthony's life was the embodiment of the American Dream. By his own admission, however, he became so involved in his high-octane career and life that he forgot his working-class roots. He wasn't the only one to ignore the working class. There were neighborhoods like the one he grew up in throughout the country filled with deflated, unemployed, or underpaid people, ignored by elites and politicians-until Donald Trump came along.

It was only when Anthony joined the Donald Trump for President campaign as a surrogate and economic advisor that his eyes were opened to the plight of our country's middle class. It took a billionaire real estate developer who lived in a tower on Fifth Ave to show him what had happened to the neighborhood in which he'd grown up and communities like it throughout America. It was then that Anthony realized that Donald Trump and his economic policies were the best bet for our country's future.

A romp of a read, by turns hilarious, touching, and inspiring, Trump, the Blue-Collar President is sure to be among the best books written about the Trump presidency.
Praise For Trump, the Blue-Collar President…
"[Scaramucci] is always didactic but never bombastic, and he employs his self-deprecating sense of humor with remarkable effectiveness, especially in his new book,
Trump, the Blue-Collar President
. . . . It's as if you're sitting across from Scaramucci and he's talking to you. . . . The book gives an insightful look into [Trump's] popularity and success, because Scaramucci has a real understanding of how Trump thinks."—
Newsmax
"There actually is more to [Scaramucci]-much more-than his brief tenure at the White House. His journey to millionaire hedge fund manager from humble roots as the son of a blue-collar sand hog from Long Island does make compelling reading."
—
New York Journal of Books
"This book goes a long way in explaining why Donald Trump is President of the Forgotten Men and Women in the country, and why he's our last, best hope! Anthony Scaramucci uses his own working-class roots to explain why Donald Trump is the working man's President, and how Mooch's own 'New York to the West Wing of the White House' journey embodies that American Dream. Learn the true secret of President Trump's success."
—
Sean Hannity
"The Mooch takes us on a great roller-coaster ride-from a working-class suburb, to sparkling Manhattan skyscrapers, to the deepest swamps of our nation's capital. Along the way, we watch an America lost but reenergized under Donald Trump. Insightful, inspiring, and hilarious. A must read. So ordered!"
—
Judge Jeanine Pirro, #1 New York Times bestselling author of Liars, Leakers, and Liberals
Center Street, 9781546075929, 304pp.
Publication Date: October 23, 2018
About the Author
Anthony Scaramucci is an American financier, entrepreneur and political figure. He is the founder and co-managing partner of SkyBridge Capital, a global alternative investments firm.

As part of the first generation of his family to attend college, Scaramucci graduated from the Tufts University and Harvard Law School before embarking on a successful career in the financial services industry. In November 2016, Scaramucci was named to President-Elect Trump's Presdential Transition Team Executive Committee. In June 2017, he was named the Chief Strategy Officer of the Export-Import Bank. He served as the White House Communications Director for eleven days in July 2017.

In 2016, Scaramucci was ranked #85 in Worth Magazine's Power 100: The Most Powerful People in Global Finance. In 2011, he received Ernst & Young's "Entrepreneur of the Year-New York" Award in the Financial Services category. He is a member of the Committee on Foreign Relations (CFR).

Scaramucci was born and raised on Long Island, New York, where he still resides today.
or
Not Currently Available for Direct Purchase