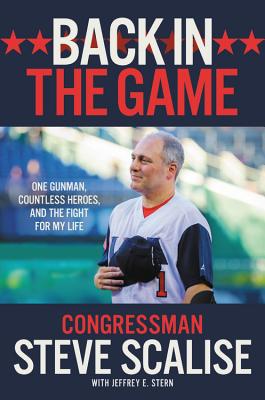 Back in the Game (Hardcover)
One Gunman, Countless Heroes, and the Fight for My Life
Center Street, 9781546076131, 304pp.
Publication Date: November 13, 2018
* Individual store prices may vary.
Description
The inspiring true story of how Congressman Steve Scalise survived a political mass shooting and returned to Congress with the help of his friends, family, and faith.
On the morning of June 14, 2017, at a practice field for the annual Congressional Baseball Game, a man opened fire on the Republican team, wounding five -- including Louisiana Congressman Steve Scalise nearly fatally.
Told with harrowing detail, Scalise's survival story is a minute-by-minute tribute to those who emerged in the minutes, hours, and days after he suffered a devastating gunshot wound in order to save his life and the lives of his friends.
Scalise delves into each hero's story, seeking to understand how everyone developed the knowledge, experience, and courage that ultimately saved his life. Rep. Brad Wenstrup, an Army Reserve officer and surgeon with Iraq combat experience, coordinated with police, paramedics, helicopter pilots, Scalise's security detail, and a trauma team to work miracles in a dire and frightening situation.
This is a gripping, heart-pounding, and ultimately hopeful story of the Americans who overcame their fears and differences in order to save lives -- and uplift one grateful man with assistance and prayer.
About the Author
Congressman Steve Scalise was elected to Congress in May of 2008 after serving in the Louisiana State Legislature from 1996-2008. He currently serves his colleagues as the House Majority Whip, the third highest position for House Republicans. A native of Jefferson Parish, Scalise is a graduate of Archbishop Rummel High School and Louisiana State University, where he earned a degree in Computer Science and a minor in Political Science. Scalise is married to the former Jennifer Letulle, and they have two children, Madison and Harrison. He lives in Louisiana.
Jeffrey E. Stern is the author of The Last Thousand: One School's Promise in a Nation at War, and co-author of The 15:17 to Paris. A journalist and war correspondent, his reporting has appeared in Vanity Fair magazine, The Atlantic, New York Times Magazine, and elsewhere.
Praise For Back in the Game: One Gunman, Countless Heroes, and the Fight for My Life…
"This is a heart pounding moment by moment account of what happened on the baseball diamond and a much deeper examination of who we are as Americans and what we must do to tone down the hateful rhetoric in today's political conversations."
—
Newsmax
"The firefight described in Back in the Game had me on the edge of my seat."
—
Townhall
"The gripping and inspiring story about the June 14, 2017 assassination attempt on him and other members of the House Republican baseball team."—
Washington Examiner
"A must-read for all Americans! Despite being targeted and nearly killed for his political beliefs, Steve Scalise came back stronger than ever to keep fighting for our values. He's a true conservative leader, and his story is powerful."—
Sean Hannity
"Riveting! Steve's story can be a lesson for all of us about unity, bridging divides, and how family and friends are what's most important in life."—
Congressman Cedric Richmond, D-LA
"Steve's faith, from the moment of his injury throughout his recovery, is a powerful example to us all, as he and his family trump over the evil that found us on the field that day."—
Congressman Brad Wenstrup, R-OH