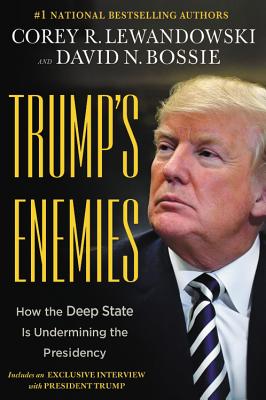 Trump's Enemies (Hardcover)
How the Deep State Is Undermining the Presidency
Center Street, 9781546076223, 288pp.
Publication Date: November 27, 2018
* Individual store prices may vary.
Description
Corey R. Lewandowski and David N. Bossie, the authors of the blockbuster, Let Trump Be Trump: the Inside Story of His Rise to the Presidency, are back with their next New York Times bestseller.
This book will reveal the heart of the hostile bureaucratic network that has been operating in the shadows until the American people voted Trump into office. Trump's determination to transform the government, wipe out the swamp, and reduce the power of the bureaucratic machine has set him on a collision course with agencies populated by a workforce resistant to the American people's agenda.
That collision, however, is one that the president is prepared to meet head-on. Why? Because it is the key to unraveling the very swamp the administration is determined to end. The reader will have a front-row, exclusive seat for the political battles inside the White House and the war it is waging against those government bureaucrats, establishment officials, and foes within the Obama administration.
This book will expose the political and bureaucratic underbelly, its struggle to survive against an unorthodox commander-and-chief, and its willingness to do almost anything to stop him.
About the Author
Corey R. Lewandowski currently serves on Vice President Pence's political action committee. He is also president and CEO of Lewandowski Strategic Advisors, LLC. He previously served as the chief political advisor and campaign manager to Donald J. Trump for President. Prior to that, he was an executive for Americans for Prosperity. Lewandowski appears regularly on television and serves as an on-the-record spokesman to major print outlets. He is a contributor to The Hill newspaper and was recently named a visiting fellow at Harvard University. Corey previously served as a certified police officer with the state of New Hampshire, where he lives with his family.
David N. Bossie has served as president of Citizens United since 2001 and is a Fox News contributor. Beginning in August 2016, Bossie served as deputy campaign manager for Donald J. Trump for President and then as deputy executive director of the Presidential Transition Team. In 2015, Bossie was ranked number two in Politico's top 50 most influential people in American politics. In 2016, he was elected Republican national committeeman from Maryland. David, proudly served as a volunteer firefighter for over 15 years in Maryland where he lives with his family.
Praise For Trump's Enemies: How the Deep State Is Undermining the Presidency…
"Lewandowski and Bossie provide a window into Trump World. . . . As 2020 approaches, Trump's Enemies is a preview of what to expect."—The Guardian