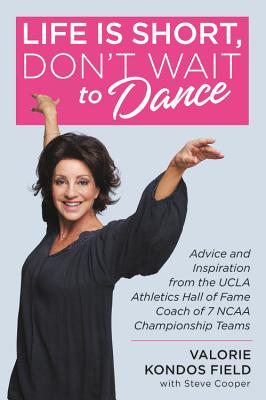 Life Is Short, Don't Wait to Dance
Advice and Inspiration from the UCLA Athletics Hall of Fame Coach of 7 NCAA Championship Teams
Hardcover

* Individual store prices may vary.
Other Editions of This Title:
Digital Audiobook (10/1/2018)
Paperback (10/1/2019)
Description
Highly acclaimed UCLA Women's gymnastics coach of 7 NCAA championships Valorie Kondos Field shares insights on how to use uniqueness and authenticity to achieve success.
Former professional ballerina Valorie Kondos Field--or Miss Val, as she's affectionately known--has never tumbled, flipped, or even played any type of organized sports, and yet she has been able to craft a legendary coaching career through curiosity, creativity, attention to detail, and unwavering care for the overall well-being of her athletes. For Miss Val, it's not about winning and losing, it's about choreographing your life and owning the choices you make.
Miss Val has shaped her UCLA Gymnastics program as a life skills class and now she's sharing those lessons with you, whether you're an athlete, business leader, or simply someone who wants to own their destiny. Miss Val's philosophies are timeless. Her coaching style is unorthodox. Life Is Short, Don't Wait to Dance is a thought-provoking, fun journey through the anecdotes of the 35-year career of a dancer/choreographer turned athletic coach.
The book includes unforgettable stories of the Olympians and athletes with whom she's worked-including the inspirational journey of Katelyn Ohashi, whose joyful transformation under the tutelage of Miss Val was evident to the world when her perfect 10 floor routine went viral -- reaching over 100 million viewers. Other triumphs include Olympian Jamie Dantzscher, who found her confidence at UCLA and learned the tools to combat her previous abuse; and sensation Christine Peng Peng Lee, who helped the Bruins clinch the 2018 NCAA championship with back-to-back 10's. Miss Val also shares her favorite memories of her mentor, legendary basketball coach John Wooden, as well as her thoughts on Larry Nassar and the gymnastics sexual abuse scandal.
Miss Val reveals how her coaching journey had a rocky start before she found her own best approach. In time she realized that her dance background wasn't a detriment, it was a gift. When she embraced this, Miss Val led the Bruins to victory. Life Is Short, Don't Wait to Dance is packed with great advice for anyone on a quest for success, delivered in Miss Val's reassuring and inspirational tone. She took the same approach to her breast cancer diagnosis, explaining how she made that struggle into one of the best years of her life. For Miss Val, it's all about attitude. Life Is Short, Don't Wait to Dance is a powerful book that shows you how to make the leap of faith in choosing your own path to greatness.
Praise For Life Is Short, Don't Wait to Dance: Advice and Inspiration from the UCLA Athletics Hall of Fame Coach of 7 NCAA Championship Teams…
"The title of Valorie Kondos Field's book, Life is Short, Don't Wait to Dance, offers wise advice, a metaphor and a tribute all at once. The coach of UCLA's women's gymnastics team built her extraordinarily successful career on encouraging self-direction and being 1% better each day at a form of expression that feeds your soul."—Los Angeles Times

"Life is Short Don't Wait to Dance is an incredible book."—Kristyn Burtt, host To The Pointe

"Coach Val was smart enough to have been naïve enough to not know what she could not accomplish. Ballerina to championship gymnastics coach--will certainly finds a way."—Kevin Plank, Founder and CEO of Under Armour

"Valorie Kondos Field's scope goes well beyond gymnastics... Miss Val is the life coach we all need in our corner, be it the boardroom or in the arena. I encourage all CEOs who want to tap into their fullest potential to become a student of Coach Val."—Mary Callahan Erdoes, CEO J.P. Morgan Asset & Wealth Management

"Miss Val's not-as-you-would-expect approach to coaching has positioned her to ink 7 NCAA Championships. Her success has inspired many who have witnessed her gifts and genius as a coach, mentor and healer."—William D. Parham, Ph.D., ABPP, Director, Mental Health and Wellness Program for NBA Players Association

"Miss Val is a force of nature. Her journey to the top is a riveting story. Her demand for personal excellence and her ability to create belief in her student athletes provides for a great read and success model for all."—Sue Enquist, Founder of ONE Softball, Former UCLA Head Softball Coach, 11-time National Champion

"After years of observation I can say with unbridled respect and full-throttled enthusiasm it is Miss Val's turn! She truly is one of the brightest beacons of light in the gymnastics world!"—--Kathy Johnson Clarke, Sports Commentator, 1984 Olympic Medalist

"Miss Val's coaching technique really appealed to me because it was very different than elite gymnastics. She always reminds me before meets, never take life for granted and to cherish every moment."—Simone Biles, 4x Olympic Gold Medalist

"She nurtures that kind of potential into so much excellence that even standing in a room with her and listening to her speak can bring you to a level you didn't even know you had in you."—Johnny Kim, International Cirque Artist

"It's really easy to give up when things are not going your way, or when things are challenging, or when you have adversity or struggle, but she always stays positive."—Nastia Liukin, Olympic Gold Medalist

"After meeting Miss Val, I have a new found love and passion for the sport. She creates champions while putting their health and well-being first and allowing each athlete's uniqueness to flourish. She is a coach, mentor, leader, and friend who saw the potential in me before I saw it in myself and helped me grow to be the person I am today."—Jordyn Wieber, World Champion, Olympic Gold Medalist

"Having a role model like Val early in my college career was really important to me because I saw the interaction she had with the women on her team and how winning was certainly important, but not the most important thing."—Jim Mora, UCLA football head coach

"To watch her work with people who have won gold medals in the Olympics... it's one thing to be an exceptional athlete it's another thing to have this emotion bleed through your athleticism to take that sport to an entirely different level."—Brian Gott, Philanthropist/Producer

"She has this reputation within the gymnastics community of not only being a great gymnastics coach, but also a life coach, a mentor and a friend."—Judy Olian, Dean of UCLA Anderson School of Management

"Miss Val has redefined the rules of success. In Life is Short, Don't Wait to Dance, she gives us a new roadmap we so desperately need to live a life we would have never dreamed of. From a gymnastics coach who had never done gymnastics, this book is poised to change the way we think about success, diversity, purpose, passion, gratitude, leadership, and our choice in the matter."—Darcy Anderson, Political Director
Center Street, 9781546077145, 240pp.
Publication Date: October 2, 2018
About the Author
Valorie Kondos Field is the head coach of the UCLA Women's Gymnastics team. She has led her team to seven NCAA Championship titles and 29 Pac-12 and NCAA Regional titles. This preeminent coach was recently named the Pac-12 "Coach of the Century," and in 2010, she became one of only two active coaches to be inducted into the UCLA Athletic Hall of Fame.
or
Not Currently Available for Direct Purchase