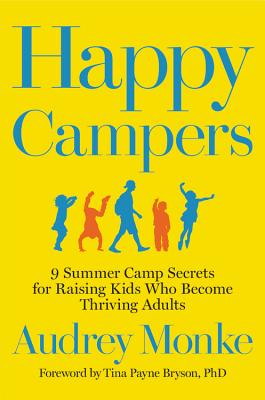 Happy Campers
9 Summer Camp Secrets for Raising Kids Who Become Thriving Adults
Hardcover

* Individual store prices may vary.
Description
Audrey "Sunshine" Monke, mother of five and camp owner-director, shares nine powerful parenting techniques-inspired by the research-based practices of summer camp-to help kids thrive and families become closer.

Research has proven that kids are happier and gain essential social and emotional skills at camp. A recognized parenting expert, Audrey Monke distills what she's learned from thousands of interactions with campers, camp counselors, and parents, and from her research in positive psychology, to offer intentional strategies parents can use to foster the benefits of camp at home.

Our screen-obsessed, competitive society makes it harder than ever to raise happy, thriving kids. But there are tried-and-true methods that can help. Instead of rearing a generation of children who are overwhelmed, anxious, depressed, and who struggle to become independent, responsible adults, parents can create a culture that promotes the growth of important character traits and the social skills kids need for meaningful, successful lives.

Thousands of parents attest to the "magical" benefits of summer camp for their kids, noting their children return more joyful, positive, confident, and resilient after just a few weeks. But you can learn exactly what it takes to promote these benefits at home. Complete with specific ideas to implement the most effective summer camp secrets, Happy Campers is a one of a kind resource for raising happy, socially intelligent, successful kids.
Praise For Happy Campers: 9 Summer Camp Secrets for Raising Kids Who Become Thriving Adults…
"HAPPY CAMPERS--full of practical and powerful tools that parents can immediately put into practice--lights a path to help parents nurture a culture of connection in our homes...to help our children become their best selves."—Tina Payne Bryson, Ph. D., LCSW, and New York Times bestselling co-author of The Whole-Brain Child and The Yes Brain

"HAPPY CAMPERS offers the big dose of positivity parents need! Make your parenting far more enjoyable and effective by adopting the practices camp counselors use to create fun, life-changing, and character-building experiences. The Bringing Camp Home Section at the end of each chapter provides proven ideas and practices to raise kids who are more capable, kind, resilient, and optimistic--and who have the skills to thrive as adults!"—Jon Gordon, bestselling author of The Energy Bus and The Power of a Positive Team

The recipe for...connection, positivity, independence, and perseverance that can turn any kid into a his or her best self.—Jessica Lahey, teacher and author of the New York Times bestseller The Gift of Failure

HAPPY CAMPERS is a joyful and wise parenting book...I have never read a more optimistic and well-grounded guide to parenting.—Michael G. Thompson, Ph.D., clinical psychologist, school consultant, international speaker, and bestselling author of Raising Cain: Protecting the Emotional Lives of Boys

With this book, parents can bring home the magic of camp and learn all the simple secrets the counselors use to build meaningful relationships that will help your child grow and meet their fullest potential as young adults.—Dr. Jim Sears, pediatrician, camp doctor, and co-host of The Doctors
Center Street, 9781546081791, 272pp.
Publication Date: May 7, 2019
About the Author
Audrey Monke has a master's in psychology and has worked with thousands of parents and campers as owner and director of Gold Arrow Camp in Lakeshore, California, since 1989. Known by her camp name "Sunshine," Audrey is a speaker and writer about positive parenting techniques for raising successful children. She is a former president of the Western Association of Independent Camps, as well as a regular contributor to Camping Magazine and the American Camp Association's Camp Parents blog. Visit her website at sunshine-parenting.com.

Tina Payne Bryson, Ph.D., LCSW, is the New York Times bestselling co-author (with Dan Siegel) of The Yes Brain, The Whole-Brain Child, and No-Drama Discipline (Random House). She's a pediatric and adolescent psychotherapist, parenting consultant, and the director of parenting education and development for the Mindsight Institute. A frequent lecturer to parents, educators, and professionals, she lives near Los Angeles with her husband and three children.