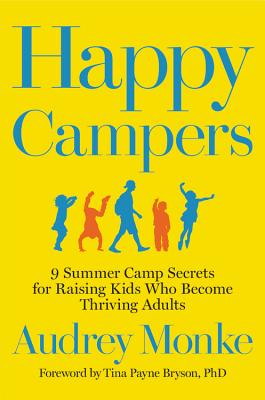 Happy Campers (Hardcover)
9 Summer Camp Secrets for Raising Kids Who Become Thriving Adults
Center Street, 9781546081791, 240pp.
Publication Date: May 7, 2019
* Individual store prices may vary.
Description
Raise confident and capable kids who become thriving adults with nine proven summer camp secrets from a camp owner and mother-of-five with a masters in psychology.
Many of us live in suburban neighborhoods with nice yards, but without children in them often enough. We're out to dinner and notice a silent family, faces tilted toward their individual screens. Or maybe that family is us.
In a social media culture, more than ever, the tried and true benefits of summer camp are being lauded for the value they've always held. Camp encourages real connection, grit, self-reflection, optimism, and self-confidence, and it does so without dependence upon technology. By implementing the proven principles of camp in our own homes, we can provide our kids with the tools they need to develop into thriving adults.
Summer camp is attended by more than 12 million kids every year and research in positive psychology has proven that kids are just plain happier at camp.
Happy Campers
explores the reasons why, and offers parents nine secrets of summer camp that they can use to reap the benefits of camp for their children at home. Extra resources are included at the end of each chapter, such as questions for connection, family meeting topics, and activities to help families implement each summer camp strategy at home.
Chapters include:
Connection Comes First
Positive Practices Produce Optimistic Kids
Grit is Grown Outside the Comfort Zone, and
Coach Kids to Better Friendships
About the Author
Audrey Monke has a masters in psychology and has worked with thousands of parents and campers as owner and director of Gold Arrow Camp in Lakeshore, California since 1989. Known by her camp name "Sunshine," Audrey is a speaker and writer about positive parenting techniques for raising optimistic children. She is a former president of the Western Association of Independent Camps, as well as a regular contributor to Camping Magazine and the American Camp Association's Camp Parents blog. Audrey and her husband, Steve, have five children and reside in Lakeshore, California.

Tina Payne Bryson, Ph.D., LCSW, is the New York Times bestselling co-author (with Dan Siegel) of The Yes Brain, The Whole-Brain Child, and No-Drama Discipline (Random House). She's a pediatric and adolescent psychotherapist, parenting consultant, and the director of parenting education and development for the Mindsight Institute. A frequent lecturer to parents, educators, and professionals, she lives near Los Angeles with her husband and three children.
Praise For Happy Campers: 9 Summer Camp Secrets for Raising Kids Who Become Thriving Adults…
"HAPPY CAMPERS--full of practical and powerful tools that parents can immediately put into practice--lights a path to help parents nurture a culture of connection in our homes...to help our children become their best selves."—Tina Payne Bryson, Ph. D., LCSW, and New York Times bestselling co-author of The Whole-Brain Child and The Yes Brain

The amazing benefits of camp can be nurtured beyond the summer months. This wonderful book puts it right in your hands.—Brooke Cheley-Klebe, owner/director of Cheley Colorado Camps