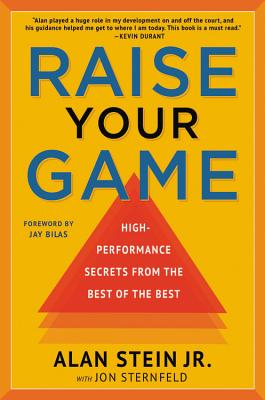 Raise Your Game
High-Performance Secrets from the Best of the Best
Hardcover

* Individual store prices may vary.
Other Editions of This Title:
Digital Audiobook (1/7/2019)
Paperback (1/14/2020)
Description
Performance coach Alan Stein Jr. shares the secret principles used by world-class performers that will help you improve your productivity and achieve higher levels of success.

High achievers are at the top of their game because of the discipline they have during the unseen hours. They have made a commitment to establish, tweak, and repeat positive habits in everything they do. Raise Your Game examines the top leaders in sports and business and proves that success is a result of the little things we do all the time.

The basic principles provided in Raise Your Game are simple, but not easy. We live in an instantly downloadable world that encourages us to skip steps. We are taught to chase what's hot, flashy and sexy and ignore what's basic. But the basics work. They always have and they always will.

Raise Your Game will inspire and empower you to commit to the fundamentals, create a winning mindset, and progress into new levels of success.
Praise For Raise Your Game: High-Performance Secrets from the Best of the Best…
"Alan played a huge role in my development on and off the court and his guidance helped me get to where I am today. This book is a must read."—Kevin Durant

"Alan shares what it takes to take your game to the next level. Raise Your Game provides tools, concepts and strategies you can utilize today to enhance your influence and make an immediate impact on your team, culture and organization." —Jon Gordon, bestselling author of Training Camp and The Carpenter

"Alan knows exactly what it takes to Raise Your Game. The stories, principles and strategies he shares in this book apply to basketball, business and everything in between. If you want to be a more influential leader and impactful teammate--you will read this book."—Jay Wright, Head Coach of Villanova University (2016 & 2018 NCAA Champions)

"Raise Your Game shares the principles required to be an impactful leader and an influential teammate. This book looks at what the highest performers in sports and business do consistently to create winning cultures and championship teams. The stories, lessons and practical take-a-ways will help players, coaches, executives and entrepreneurs unlock new levels of performance."—Ric Elias, CEO of Red Ventures

"Whether building a start-up as an entrepreneur, or a developing innovations as an "intrapreneur" at a Fortune 500, the fundamentals of success are the same. It comes down to habits, preparation and mindset. Raise Your Game shares the building blocks used by the world's top athletes, executives, coaches and entrepreneurs to reach unparalleled success and perform at the highest level. I am recommending Raise Your Game as a must-read for all of the entrepreneurs and executives I work with."—Mark French, Serial Entrepreneur (Sports / Entertainment / Media / Technology)

Praise for Alan Stein, Jr.:
"Simply put, Alan Stein is the best in the business. I worked alongside Alan for years and his ability to motivate and inspire is second to none.. His passion inspires everyone he connects with to push their limits. Alan gets results. Period."—Jay Bilas, ESPN

"Alan's first hand experience with elite basketball players provides an unmatched angle on exactly what is needed to help any business or organization thrive. Our entire team was really empowered by his talk."—Angel Roberts, Founder, Love, Peace and Hip Hop

"Alan's talk was an unbelievably motivating way to kick start our company off-site. He was funny, interactive, and engaging, all while driving home extremely important take-a-ways for our team to get better."—Vasu Kulkarni, C.E.O., Krossover

"If you need a speaker that can captivate and engage an audience, you will be blown away by Alan Stein. He walks the walk and gets the audience to relate to his stories in a way that they too, feel empowered to lead. He delivers a powerful message in a practical, insightful and entertaining way."—Danyell Johnson, Founder, Find the Money Project

"Alan's innate ability to speak passionately and with substance make him one of the best corporate speakers I've had the pleasure of experiencing. He recently received a standing ovation after his keynote performance in Cancun, Mexico at our annual company convention (where he address hundreds of fitness executives, managers and directors). His talk was one of the highlights of our event. We will undoubtedly have him back to speak again."—Kirk Galiani, Founder & Co-Executive Chairman, U.S. Fitness

"Alan has a unique ability to enthrall any audience with his passion, energy and authenticity. His experience with world-class athletes provides an unparalleled perspective on teamwork and leadership. Alan is extremely impactful when sharing the tools needed to level-up any organization in today's hyper-competitive and dynamic marketplace."—Michael Cohen, C.O.O., Whistle Sports
Center Street, 9781546082866, 304pp.
Publication Date: January 8, 2019
About the Author
Alan Stein Jr. is a corporate performance coach and world-renowned speaker. He spent more than fifteen years working with the highest-performing basketball players on the planet. Alan delivers high-energy keynotes, interactive workshops, and impactful full-day trainings to help organizations improve performance, cohesion, and accountability. He inspires and empowers everyone he works with to take immediate action and improve mindset, habits, and productivity. Alan teaches how the same strategies that elite athletes use to perform at a world-class level can be utilized in business to build a winning culture. He is an amicably divorced father of twin sons (Luke and Jack) and a daughter (Lyla) and lives just outside of Washington, DC.

Jon Sternfeld is the coauthor of A Stone of Hope: A Memoir, with Jim St. Germain, Strong in the Broken Places: A Memoir of Addiction and Redemption through Wellness with Quentin Vennie, and Crisis Point: Why We Must -- and How We Can -- Overcome Our Broken Politics in Washington and Across America with Senators Tom Daschle and Trent Lott. He lives in New York.
or
Not Currently Available for Direct Purchase