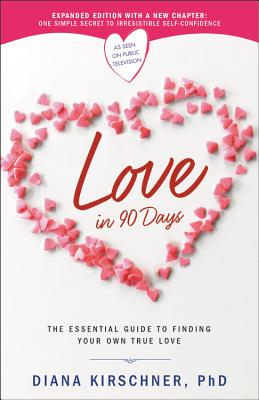 Love in 90 Days (Paperback)
The Essential Guide to Finding Your Own True Love
Center Street, 9781546084891, 416pp.
Publication Date: January 15, 2019
Other Editions of This Title:
Digital Audiobook (1/15/2009)
Compact Disc (1/5/2010)
Paperback (2/8/2010)
Hardcover (1/1/2009)
* Individual store prices may vary.
Description
Relationship expert and bestselling author Dr. Diana Kirschner uses the latest research and clinical experience to teach you how to find Love in 90 Days.
Bestseller Love in 90 Days is even better in this expanded, updated version. It's fun, savvy and based on the latest research as well as renowned psychologist Dr. Diana's experience coaching tens of thousands of single women all over the world through her coaching team. Loaded with easy step-by-step instructions and assignments, this revolutionary love book has been called the dating coach's secret weapon.
Most singles unconsciously make the same mistakes over and over again in love, regardless of age, work success, or the type of man they are dating. Using her unique approach, Dr. Diana pulls no punches. She outlines a program that gets women on the path to smash through their self-sabotage and forge a healthy love relationship.
Key chapters cover:
1) Deadly Dating Patterns. Identify and break them!
2) Dating Program of Three. Learn how to meet and attract quality men both on and offline
3) Rapid Healing from Heartbreak. Bounce back better than ever.
4) Irresistible Self-Confidence. (brand new chapter). Eradicate destructive dating beliefs and turbocharge your self-esteem
About the Author
Psychologist Dr. Diana Kirschner appeared regularly on the Today Show and starred in a PBS Special on finding love, based on her bestseller, Love in 90 Days. Dr. Diana successfully ran the 90 Day Love Challenge on the Fox Morning Show and her work has been featured in The New York Times and The Wall Street Journal. Through her books and acclaimed Love Mentor® Coaching team, Dr. Diana has helped tens of thousands of women all over the world to create greater self-love and lasting passionate soulmate relationships. Her website is Lovein90Days.com, a leading source of dating and relationship advice. Dr. Diana has been happily married and in love with her husband for over 35 years.
Praise For Love in 90 Days: The Essential Guide to Finding Your Own True Love…
"Diana's theory makes sense... and helps you avoid the waiting-by-the-phone-for-one-person syndrome! For several months I followed the program and enjoyed the process. I appreciate her planting very helpful seeds!"—
Hoda Kotb, The Today Show
"Dr. Diana understands the mysteries of committed passionate love."
—
John Gray, international bestselling author, Men Are from Mars, Women Are from Venus
"The best-selling, how to book, flew off the shelves of bookstores and a copy seems to be on the coffee tables and reference material for many of my friends...
Love in 90 Days
is replete with pages of heart-filled ideas and exercises. Like the song: summertime and the reading is easy. Go for it."
—
Examiner.com
"
A wonderful addition to any single woman's library...I was thrilled with how many times Dr. Diana exceeded my expectations...Chapter Two (the Deadly Dating Patterns) is mandatory reading."—
Dating Guide at About.com
"Are you just thinking about getting back into dating? Or is your current dating strategy getting you nowhere? Maybe you're with a guy now and wondering if he's 'The One?' Or are you in a relationship now that you know deep inside is failing? No matter what is happening in your love life,
Love in 90 Days
is for you. Grab this book now. It truly rocks!"—
Steve Nakamoto, Writers Digest award-winning author of Men are Like Fish; What Every Women Needs to Know about Catching a Man
"Dr. Diana Kirschner's work is life-changing, love-affirming, and wonderfully effective."—
Christiane Northrup, MD, bestselling author, Women's Bodies, Women's Wisdom
"At first, I was skeptical that anyone could find real love in ninety days. But Dr. Diana gives you the structure and the 'someplace to start' that we all need. Finding true love is about preparation, and if you can follow a map or read a recipe, then you can do this! Dr. D lays out her program clearly so you don't have to overthink it. Get going, we're all waiting!"
—
Steve Santagati, president of Bad Boys Finish First Inc. and author of the New York Times bestseller The Manual
"Funny, wise, and emotionally generous, Dr. Diana Kirschner is an expert at helping single women weed out the frogs to find princes. Ignore her smart advice at your own peril."
—
Susan Shapiro, author of Secrets of a Fix-Up Fanatic and Five Men Who Broke My Heart