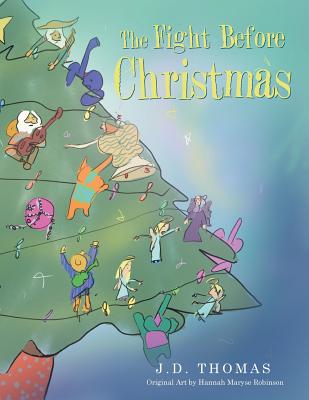 The Fight Before Christmas
Paperback

* Individual store prices may vary.
Description
Edwina, the Christmas tree fairy, has been in control of the Christmas tree ornaments for longer than most of them can remember. But this year, there's a new fairy in town-the flamboyant Consuela-bought on a family holiday in Valencia. Chaos erupts on Christmas Eve as the fairies fight for position at the top of the tree. It looks as though Christmas will be ruined. It's more important than ever this year, because for Beth and her mother, the tree is more than an ornament. It holds memories of happier times and of people they love. Can the ornaments learn to work together in time to make Beth's wish to see her mother smile again come true?
Authorhouse UK, 9781546298632, 40pp.
Publication Date: September 29, 2018
About the Author
J.D Thomas lives in Oxfordshire, England. The idea of The Fight Before Christmas began as a short, animated, film during the course of completing her Masters in screen-writing at the Royal Holloway University of London. Although Screen-writing is her usual medium, when she met Hannah, on the Master's course, and saw what a talented illustrator she was, the idea of a collaboration on this book was born. Hannah Maryse Robinson is a filmmaker, writer and illustrator based in Berlin, Germany. When she's not developing film and TV scripts, she's busy doodling weird and wonderful worlds for children's books and graphic novels.