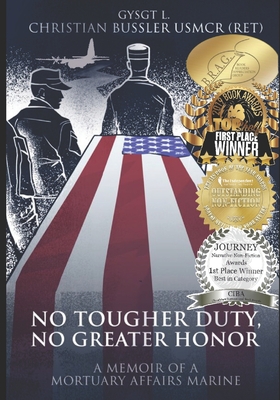 No Tougher Duty, No Greater Honor (Paperback)
A Memoir of a Mortuary Affairs Marine
Createspace Independent Publishing Platform, 9781546604938, 526pp.
Publication Date: July 27, 2017
* Individual store prices may vary.
Description
2018 NGIBA Finalist for Military category and Finalist for Autobiography in the 2018 Readers' Favorite Awards - An autobiographical account of one US Marine Reservists tours as a Mortuary Affairs Marine. His story begins in 2002 as an everyday postal letter carrier in Springfield, Ohio when he gets the call to muster. In the next three years, his life is thrust onto the world stage as an active participant in combat. His unique perspective as a MA (Mortuary Affairs) Marine puts him and his fellow teammates directly into the path of war. Told in first person view, read what it was like to witness a despotic regime crumble, walk the streets of terrorist held cities on foot patrols, go on Search and Recovery missions to recover the fallen off of battlefields, and feel the sting of loss of a friend to the harsh realities of war. These are the stories that are never spoken, by a Marine who was there, to return the fallen home with honor.
About the Author
The Author of "No Tougher Duty, No Greater Honor," Christian Bussler grew up as an Air Force brat in the 1970's and 1980's. He joined the Marine Corps Reserves right out of high school and was assigned to MP Co "C" in Dayton, Ohio as an 0311 Rifleman. He was crossed trained as a 9051 Graves Registration/Mortuary Affairs Marine in the early 1990's. in 2003 his platoon of Mortuary Affairs specialists was activated to head to Kuwait, and he participated in the invasion of Iraq in 2003. In Feb of 2004, he volunteered to go back to Iraq and was assigned to Weapons Co 3rd Battalion, 4th Marines, where he was wounded in combat operations while fighting against Al Qaeda terrorist insurgents. After his surgeries, he volunteered once again to go back to Iraq in 2005, but this time as the Staff NCOIC of all Mortuary Affairs operations in and around Al Taqaddum, Iraq. His book "No Tougher Duty, No Greater Honor" details his experiences as a forward operating "body-bagger." He tells the stories that no one ever speaks of, about a duty that few know that exists. He had spent four years teaching himself how to write, and his book is the result of thousands of hours of writing and re-writing his difficult experiences in war. He hopes that his work can provided the answers that families of the fallen may have, and he hopes to honor the sacrifices of those who have paid the ultimate cost for freedom.
or
Not Currently Available for Direct Purchase