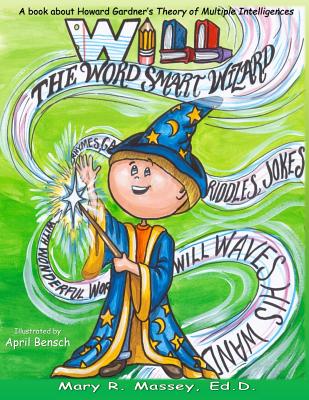 Will, the Word Smart Wizard (Paperback)
A Book about Howard Gardner's Theory of Multiple Intelligences
Createspace Independent Publishing Platform, 9781547102266, 50pp.
Publication Date: July 29, 2017
* Individual store prices may vary.
Description
Will, the Word SMART Wizard is the second book in Dr. Mary Massey's SMART Parts series about Gardner's Theory of Multiple Intelligences. Will is one of the characters from the series introductory book, Ellie Rae Discovers Eight Ways to be SMART. He is Word SMART and loves jokes, puns, rhymes and word plays. In this early childhood story, we see Will using his Word SMART abilities to enhance some of his other multiple intelligences or SMART parts. As children learn about their SMART parts, they are fortified in their sense of self by better understanding their strengths, valuing the strengths of others, and learning how to work together to grow and learn.
About the Author
Dr. Mary Massey is a lifelong learner who believes all children are SMART, they're just SMART in different ways! She has researched Howard Gardner's Theory of Multiple Intelligences (MI) and uses it as a foundation for instruction, as a college professor. She also designs and conducts MI professional development programs for teachers. Mary was raised in South Bend, IN, moved to Foley, AL in high school and is an alumna of Troy (State) University (BME), Troy, AL and Nova Southeastern University (MS & EdD), Fort Lauderdale, FL. She now lives in Tallahassee, Florida with George, her husband of 38 years. She is the Mama of two adult children, William (wife, Natalie) and Alexandra and the Nana of two adorable granddogs, Macallan and Sadie Mae. Keep a lookout for the next book in the SMART Parts series! You can follow Mary on Facebook at www.facebook.com/MaryRMasseyEdD/ or her blog at www.hugthemountain.com.