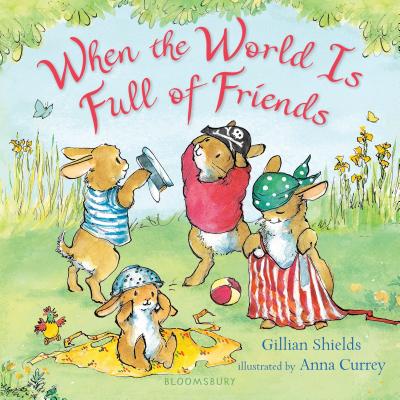 When the World Is Full of Friends (Board book)
Bloomsbury Children's Books, 9781547600670, 26pp.
Publication Date: February 12, 2019
Other Editions of This Title:
Hardcover (2/20/2018)
Paperback (4/7/2016)
* Individual store prices may vary.
Description
When the world
is full of friends,
the fun and laughter
never ends.
Albert, Tom, Flossie, and Pipkin love to play. And while they have fun inventing games together, their biggest wish is to have friends to share them with. One day, something magical happens. A family of squirrels moves in across the stream! They could be the perfect friends--but how will they cross the stream?
With a little help from Father Rabbit, Albert, Tom, Flossie, and Pipkin will discover just how wonderful it is when the world is full of friends. This touching story from the revered team behind When the World Is Ready for Bed and When the World Was Waiting for You will warm the hearts of readers young and old.
About the Author
Anna Currey is the author and/or illustrator of several books for children, including Truffle's Christmas.
Praise For When the World Is Full of Friends…
"The pen-and-ink with watercolor illustrations are soothing and set the perfect atmosphere for this calm book . . . This engaging story will be enjoyed in one-on-one readings or in a preschool storytime about solving problems." - School Library Journal
"The anthropomorphization and bucolic setting recall Beatrix Potter; like hers, these rabbits are a near-perfect blend of rabbit and human. A charming story of perseverance that's rooted in simplicity and nostalgia." - Kirkus Reviews
An intriguing combination of Beatrix Potteresque delicacy and expansive scale-the images feel big and small at the same time, assuring diminutive readers that home is not only a refuge from the world, but also a world that's all their own. - Publishers Weekly on WHEN THE WORLD IS READY FOR BED
"Shields's sweet, melodious rhyme and Currey's warm, lively watercolors trace the evening of a very appealing rabbit family... Children will be glad to snuggle up and be softly lulled to sleep by this soothing selection." - Kirkus Reviews on WHEN THE WORLD IS READY FOR BED
"Nothing says bedtime like bunnies in a country cottage... at the end... a bright morning scene--'Always lovely, / Always new, / Tomorrow's waiting / Just for you.'--...does more to comfort than wake up sleepy listeners." - Booklist on WHEN THE WORLD IS READY FOR BED
"Expectant parents will love this as a gift, little ones will warm to the reassuring story of each baby's importance and bunny-rabbit aficionados will take this charming tale to heart." - starred review, Kirkus Reviews on WHEN THE WORLD WAS WAITING FOR YOU
"Shields's short, rhyming couplets are complemented by Currey's warm, sunshine yellow watercolors. . . . The colorful paintings are full of detail yet create a peaceful atmosphere and are the perfect background to the simple, relaxed text. . . . Tender picture book is perfect to share with new siblings who are impatient to greet a little one of their own." - School Library Journal on WHEN THE WORLD WAS WAITING FOR YOU