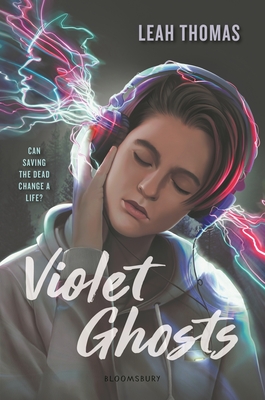 Violet Ghosts
Hardcover

* Individual store prices may vary.
Description
From William C. Morris and Edgar Award finalist Leah Thomas comes an ethereal, thought-provoking YA tale about a teen who can see ghosts . . . and helps them avenge their deaths.

Dani's best friend, Sarah, is a ghost. But maybe that's normal when you've spent your childhood running from an abusive parent.

Dani and Sarah might be more than friends, though Dani dares not say so. Dani is afraid that if he tells Sarah he's trans, she won't bother haunting him anymore. Sarah's got good reason to distrust boys, having been strangled by one.

After Sarah and Dani come across another ghost haunted by her own brutal murder, they set out to bring peace and safety to spirits like her. But when an old rival reenters Dani's life, their unexpected friendship gives Dani a strange new feeling of belonging. As Dani starts to find his place in the living world, he'll need to let go of his ghosts.

Equal parts chilling, raw, and emotionally resonant, acclaimed author Leah Thomas's ghost story for the #MeToo era is about reclaiming trauma and finding peace among true friends.
Praise For Violet Ghosts…
"Fiercely feminist and gorgeously inclusive, Wild and Crooked effortlessly compels the reader to explore what it means to discover the beautiful truth of who you are, and how to fight for the truth of those you love." - Shannon M. Parker, acclaimed author of THE GIRL WHO FELL and THE RATTLED BONES on WILD AND CROOKED

"A haunting and hopeful story of self-discovery." - Kirkus Reviews, starred review

"With lyrical writing, a gripping plot, and visceral emotion, there are many high points to this book . . . . Give this to fans of ghost stories, magical realism, feminism, and complex characters." - School Library Journal, starred review

"Thomas (Because You'll Never Meet Me) writes complex characters, all of whom have experienced trauma, with compassion, deftly exploring the ways in which codependency can obstruct healing. . . . [A] dark, thoughtful ghost story." - Publishers Weekly

"Thomas (Wild and Crooked, 2019) serves up a captivating novel, exploring themes of coming out, trans acceptance, toxic masculinity, histories of violence, and the complex impacts of trauma on relationships, friendships, and family." - Rob Bittner, Booklist

". . . Thomas' unerring eye for distilling the shared elements of human suffering and the persistence of hope keeps this ambitious novel on track. Ultimately, both ghosts and humans move through the world because we must, and sometimes (hopefully often) we find love, comfort, or even happiness." - Bulletin of the Center for Children's Books

"Thomas' forthright, sensitive treatment of homosexuality, class, race, and prejudice combine with fully developed characters to create a world peopled by marvelously real protagonists who have the courage to do the right thing." - Booklist, starred review, on WILD AND CROOKED

"Unforgettable and distinct voices . . . A fantastic novel that will be especially resonant for readers who struggle with being or feeling outside of 'normal.'" - Booklist, starred review, on NOWHERE NEAR YOU

"Metaphor and figurative language make the prose here beautiful to read. . . . The poignant, strange, and poetic novel is a nuanced exploration of human nature." - Booklist, starred review, on WHEN LIGHT LEFT US

"A compelling, character-driven, and imaginative novel. . . What makes it stand out is Thomas's talent of bringing intimacy, thoughtfulness, and a sense of wonder to her writing. ¬For fans of Patrick Ness and Lauren Oliver, this is a must buy." - School Library Journal, starred review, on WHEN LIGHT LEFT US

"This brilliant follow-up to a clever and unexpected novel does exactly what it should in keeping the same epistolary format but taking these two unforgettable characters way out of their comfort zones and toward lives that are lived rather than waited out, and the result is powerful stuff indeed." - BCCB, starred review, on NOWHERE NEAR YOU

"The pacing is impeccable, as letters move from sunniness (Oliver) and bemused distance (Moritz) to both writers exploring their darkest fears, experiences, and worries for their futures." - BCCB, starred review, on BECAUSE YOU'LL NEVER MEET ME

"It's refreshing to read teens having thoughtful conversations without losing their particular voices. . . . YA authors looking to incorporate meaningful and moving LGBTQ stories into their novels: Take notes." - Entertainment Weekly on WILD AND CROOKED
Bloomsbury YA, 9781547604630, 336pp.
Publication Date: June 22, 2021
About the Author
Leah Thomas frequently loses battles of wits against her students and her stories. When she's not huddled in cafes, she's usually at home pricking her fingers in service of cosplay. Leah lives in San Diego, California and is the author of Nowhere Near You and the William C. Morris YA Debut Award finalist, Because You'll Never Meet Me.