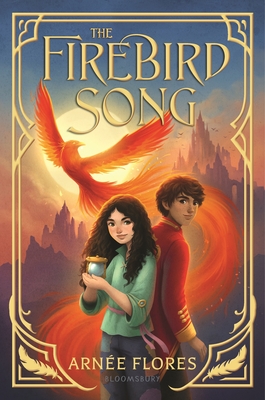 The Firebird Song
Hardcover

* Individual store prices may vary.
Other Editions of This Title:
Paperback (10/18/2022)
Description
Debut author Arnée Flores spins an exciting and original tale about hope in even the darkest of places, perfect for fans of Shannon Hale.

The Kingdom of Lyrica was once warm and thriving, kept safe by the Firebird, whose feather and song was a blessing of peace and prosperity. But the Firebird disappeared, and Lyrica is now terrorized by the evil Spectress who wields her powers from within a volcano. All that remains is a mysterious message scrawled on the castle wall in the Queen's own hand: Wind. Woman. Thief.

Young Prewitt has only known time without the Firebird, a life of constant cold, as his village is afraid to tempt the volcano monsters with even the feeblest fire. But he has heard whispers that the kingdom's princess survived the attack . . . and he is certain that if he can find her, together they can save Lyrica.

Princess Calliope has no memories beyond living on her barge on the underground lake. But as she nears her twelfth birthday, she is certain there is more to life than the walls of a cave. When Prewitt finds her, he realizes that she is the missing princess: the only hope for Lyrica. Determined to decipher the meaning of her mother's strange message and find the Firebird, Calliope and Prewitt set off on a quest that puts them in more danger than either of them ever anticipated.
Praise For The Firebird Song…
"Inviting young readers to journey into their own 'Age of Hope,' The Firebird Song shows how forgiveness and friendship offer light in even the darkest of times. A timely and beautiful tale." - Christiane M. Andrews, author of Spindlefish and Stars

"A rich and empowering story of young heroes brave enough to choose hope over fear, challenge the despair of others and change their world." - Deva Fagan, author of Nightingale and The Mirrorwood

"The Firebird Song is for anyone with a love of adventure, a heart full of hope, and the belief that one person can make a difference. Powerful, fast-paced, and unforgettable." - Gillian McDunn, author of Caterpillar Summer and Honestly Elliott

"A fast-paced, heart-squeezing adventure, perfect for fans of intricate fantasy worlds and memorable characters." - Booklist, starred review

"Finding hope, true friendship, and bravery lies at the hearts of their journeys. . . . A fantastical adventure full of hope." - Kirkus Reviews
Bloomsbury Children's Books, 9781547605125, 288pp.
Publication Date: June 8, 2021
About the Author
Arnée Flores is a Vietnamese-American transracial adoptee. She has been a classical pianist, a Montessori preschool teacher, a waitress, and a student. She currently lives in Seattle with her family. This is her debut novel.
www.arneeflores.com
@arneedflores (Instagram)