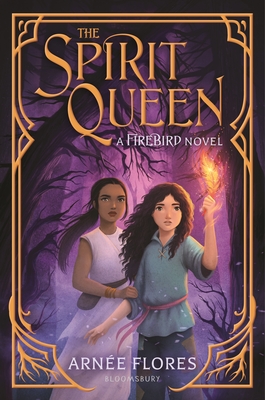 The Spirit Queen
Hardcover

* Individual store prices may vary.
Description
The hope spread by the Firebird Song was supposed to change everything. Although nature has returned to balance, the Kingdom of Lyrica suffered for too long, and remains afraid. Worse yet, Princess Calliope has begun to hear sounds--horrible shrieks and cries from across the sea that keep her awake at night--and she seems to be the only one hearing them. How can she lead her kingdom if everyone is so afraid?

When Calliope's friend Ilsbeth is kidnapped, Calliope and the Bargeboy, Prewitt, embark on a secret quest to save her--but before she can rescue her friend, Calliope must find the confidence to act like the Queen she knows she is destined to be.

This imaginative, heart-warming tale brings truths of our own world to the surface, and shows readers that out of sorrow emerges joy, out of fear arises courage.
Praise For The Spirit Queen…
"Inviting young readers to journey into their own 'Age of Hope,' The Firebird Song shows how forgiveness and friendship offer light in even the darkest of times. A timely and beautiful tale." —Christiane M. Andrews, author of Spindlefish and Stars on THE FIREBIRD SONG

"A rich and empowering story of young heroes brave enough to choose hope over fear, challenge the despair of others and change their world." —Deva Fagan, author of Nightingale and The Mirrorwood on THE FIREBIRD SONG

"The Firebird Song is for anyone with a love of adventure, a heart full of hope, and the belief that one person can make a difference. Powerful, fast-paced, and unforgettable." —Gillian McDunn, author of Caterpillar Summer and Honestly Elliott on THE FIREBIRD SONG

"A fast-paced, heart-squeezing adventure, perfect for fans of intricate fantasy worlds and memorable characters." —Booklist, starred review, on THE FIREBIRD SONG

"Finding hope, true friendship, and bravery lies at the hearts of their journeys. . . . A fantastical adventure full of hope." —Kirkus Reviews, on THE FIREBIRD SONG
Bloomsbury Children's Books, 9781547605156, 304pp.
Publication Date: October 18, 2022
About the Author
Arnée Flores is the author of The Firebird Song and is a Vietnamese American transracial adoptee. She has been a classical pianist, a Montessori preschool teacher, a waitress, and a student. She currently lives in Seattle with her family.
www.arneeflores.com
@arneedflores (Instagram)