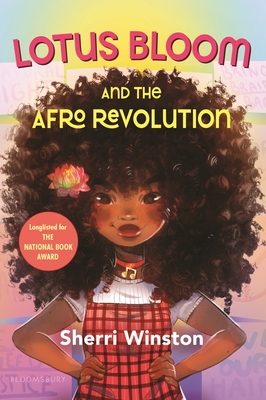 Lotus Bloom and the Afro Revolution
Hardcover

* Individual store prices may vary.
Other Editions of This Title:
Library Binding, Large Print (5/10/2023)
Description
Longlisted for the National Book Award for Young People's Literature

Member of the 2023 Notable Books for a Global Society (NGBS) List

From the beloved author of President of the Whole Fifth Grade, a story about a young Black girl who summons the courage to fight against a discriminatory dress code--and stand up for herself.

Lotus Bloom just wants to express herself--with her violin, her retro style, and her peaceful vibe, not to mention her fabulous hair.

This school year, Lotus is taking her talent and spirit to the seventh grade at a new school of the arts. The one where she just might get to play under the famous maestro, a violin virtuoso and conductor of the orchestra. But Lotus's best friend, Rebel, thinks Lotus should stay at their school. Why should this fancy new school get all the funding and pull the brightest kids out? Rebel wants Lotus to help her protest, but Lotus isn't sure. If she's going to be in the spotlight, she'd rather it be for her music.

Then, when boys throw paper wads and airplanes into Lotus's afro, Lotus finds herself in trouble for a dress code violation. Lotus must choose--should she stay quiet and risk her beloved hair, or put aside her peaceful vibe and risk everything to fight back?

Inspired by real stories of Black girls fighting dress codes that discriminate against their hair and culture, beloved author Sherri Winston introduces a memorable character who finds her way to speak up for what's right, no matter what it takes.
Praise For Lotus Bloom and the Afro Revolution…
"Lotus is a unique and deeply realized character…and the themes of inequality and racism in schools resonate. A first purchase for public and school libraries, and an excellent choice for book clubs." - School Library Journal, starred review

"Through the eyes of a sprightly, determined student, Winston delivers a powerful message about anti-Blackness, bullying, and institutionalized prejudice." - Publisher's Weekly, starred review

"This captivating novel raises issues of racial discrimination, educational equity, and classism in an approachable way, which will invite readers to consider multiple perspectives through the lively cast of diverse, multifaceted characters." - The Horn Book

"Lotus is a heroine that everyone can root for. Winston carefully navigates the nuanced waters of Black activism, including the often-overlooked concept of maintaining the status quo. . . . A great introduction to protest, activism, and how to use your voice to change the world." - Booklist Online

"Winston employs rich descriptions through Lotus' first-person narration, conveying her love of music. The text brings themes of racism and protest to the forefront, making it a solid conversation starter. . . . A relatable novel that will encourage readers to fight for their rights." —Kirkus Reviews

"A sweet confection for middle graders... will be a hit with readers who like Wendy Mass and Lauren Myracle." —Booklist on President of the Whole Fifth Grade

"Brianna's determination and follow-through make her a great role model, but the true value here is the very real depiction of the ebb and flow of middle-school friendships and the difficulties that come with growing up. An important resource for anyone who's ever been in Brianna's shoes." —Booklist on President of the Whole Sixth Grade

"Winston does an excellent job highlighting the complex race issues that African-American children face. …Thought-provoking and smart and a great springboard for discussions on race and class." —Kirkus on President of the Whole Sixth Grade: Girl Code, starred review

"Rich and winning... Readers will be rooting for both Cadence as she claims her gift and the community who supports her." —Kirkus Reviews on The Sweetest Sound, starred review

"A gorgeous song of a book - a story about faith, confidence, finding your voice, and singing out loud to lift up the people around you... [Cadence is] a character who will stay with me for a long, long time." —Kate Messner, author of The Seventh Wish, on The Sweetest Sound
Bloomsbury Children's Books, 9781547608461, 304pp.
Publication Date: September 6, 2022
About the Author
Sherri Winston is the author of President of the Whole Fifth Grade (a Sunshine State Young Readers Award selection), President of the Whole Sixth Grade (a Kids' Indie Next Pick), President of the Whole Sixth Grade: Girl Code, The Sweetest Sound (a Kirkus Best Book of the Year), Jada Sly: Artist & Spy, and The Kayla Chronicles. Before Sherri was an author, she was a longtime newspaper writer and columnist. She grew up in Michigan and now lives in Orlando, Florida.
www.sherriwinston.com
Twitter: @sherriwinston
Instagram: @iamsherriwinston