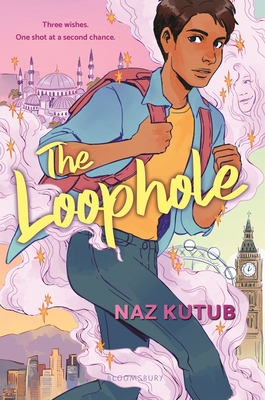 The Loophole
Hardcover

* Individual store prices may vary.
Description
A gay Muslim boy travels the world for a second chance at love after a possibly magical heiress grants him three wishes in this YA debut that's Simon vs. the Homo Sapiens Agenda with a twist of magic.

Sy placed all his bets for happiness on his boyfriend, Farouk . . . who then left him to try and "fix the world." Now, the timid seventeen-year-old Indian Muslim boy is stuck in a dead-end coffee shop job and all he can do is wish for one more chance . . .

Sy never expects his wish to be granted. But when a mysterious girl offers him three wishes in exchange for his help and proves she can grant at least one wish with an instant million-dollar deposit into Sy's struggling bank account, a whole new world of possibility opens up. Is she magic? Or just rich? And can Sy find the courage to leave Los Angeles and cross the Atlantic Ocean to lands he'd never even dreamed he could visit, all to track down his missing ex? With help from his potentially otherworldly new friend, will Sy go all the way for one last, desperate chance at rebuilding his life and refinding love?

Your wish is granted! Naz Kutub's debut weaves an engrossing whirlwind of an adventure with a journey to find love, home, and family.
Praise For The Loophole…
"Every once in a while you come upon a book filled with so much voice it has its own pulse. The Loophole is not only laughing-until-I-cry hilarious, but full of heart. A brave debut that is sure to grant all your bookish wishes." —Dante Medema, author of THE TRUTH PROJECT

"The Loophole is a celebration of queer Muslim identity, and a one-of-a-kind story about finding love, family, and--most importantly--yourself." —Adiba Jaigirdar, author of THE HENNA WARS and HANI AND ISHU'S GUIDE TO FAKE DATING

"The Loophole is a globetrotting, madcap adventure, filled with magic and plenty of heart. I laughed, I cried, and I had my heart broken, only for Naz Kutub to lovingly mend it back together with a queer story of acceptance and self-discovery." —Erik J. Brown, author of ALL THAT'S LEFT IN THE WORLD

"The Loophole took me on a magical journey that I didn't want to end. A perfect balance of heart and hilarity, Naz Kutub's debut had me rooting for Sy by the end of page one. What an absolute delight of a book." —Robbie Couch, author of THE SKY BLUES and BLAINE FOR THE WIN

"Kutub writes with humor and heart, which makes this darling debut accessible to many readers. . . . This delightful read will offer readers an ending that feels like a warm hug." - Booklist

"Romance buffs will appreciate this not-quite-wish-fulfilling story that explores love from a variety of perspectives with a keen eye for tenderness." —BCCB

"Kutub's highly stylized prose . . . and Sy's energetic deep dive into his heritage present an upbeat, wish-fulfillment tale." —Publishers Weekly

"It succeeds in covering a gamut of themes, including what it's like being brown-skinned and facing Islamophobia, experiencing heady first love, and exploring one's identity. . . . An intense read that's packed with adventure, humor, and lots of soul." —Kirkus Reviews
Bloomsbury YA, 9781547609178, 336pp.
Publication Date: June 21, 2022
About the Author
Naz Kutub is a half-Indian, half-Malay immigrant from Singapore. His debut novel, The Loophole, was inspired by his personal experiences growing up as a gay Muslim, and as someone raised on a calorie-dense diet of Eastern lore.
nazkutub.com; @nazkutub