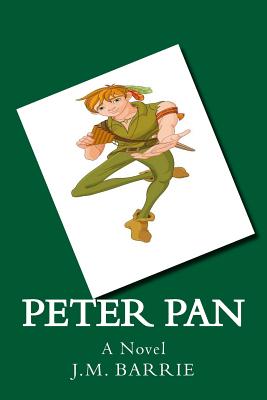 Peter Pan (Paperback)
Createspace Independent Publishing Platform, 9781548186449, 110pp.
Publication Date: June 17, 2017
Other Editions of This Title:
Digital Audiobook (9/11/2006)
Digital Audiobook (10/4/2006)
Paperback (4/25/2017)
Paperback (6/23/2018)
Paperback (8/3/2016)
Paperback (3/19/2016)
Paperback (1/31/2014)
Paperback (7/1/2018)
Paperback (2/27/2018)
Paperback (6/14/2017)
Paperback (2/10/2019)
Paperback (10/5/2013)
Paperback (9/6/2018)
Paperback (11/5/2011)
Paperback (6/19/2017)
Paperback (5/2/2016)
Paperback (3/16/2016)
Paperback (10/8/2017)
* Individual store prices may vary.
Description
Peter Pan, or The Boy Who Wouldn't Grow Up and Peter and Wendy are the stage play and novel (respectively) which tell the story of Peter Pan, a mischievous little boy who can fly, and his adventures on the island of Neverland with Wendy Darling and her brothers, the fairy Tinker Bell, the Lost Boys, the Indian princess Tiger Lily, and the pirate Captain Hook. The story was written by Scottish playwright and novelist J. M. Barrie, inspired by his friendship with the Llewelyn-Davies family.
About the Author
Sir James Matthew Barrie, 1st Baronet OM (9 May 1860 - 19 June 1937), more commonly known as J. M. Barrie, was a Scottish novelist and dramatist. He is best remembered for creating Peter Pan, the boy who refused to grow up, whom he based on his friends, the Llewelyn Davies boys. He is also credited with popularising the name "Wendy", which was very uncommon before he gave it to the heroine of Peter Pan. He was made a baronet in 1913; his baronetcy was not inherited. He was made a member of the Order of Merit in 1922. Source: Wikipedia