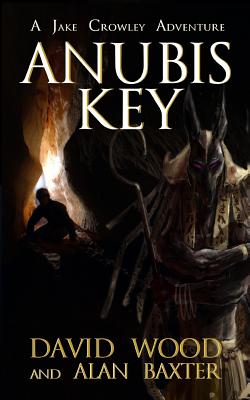 Anubis Key (Paperback)
A Jake Crowley Adventure
Createspace Independent Publishing Platform, 9781548256159, 258pp.
Publication Date: June 20, 2017
* Individual store prices may vary.
Description
Some doors should never be opened.
When Rose Black's sister goes missing, she once again calls upon Jake Crowley for help, but the two get more than they bargained for. The search takes them on a twisting journey, where danger lies at every turn. From ancient pyramids to lost cities, deadly cultists and conspirators lie in wait as Jake and Rose navigate depths few have dared on a pulse-pounding search for the ANUBIS KEY
Praise for David Wood and Alan Baxter
"A genuine up all night got to see what happens next thriller that grabs you from the first page and doesn't let go until the last." Steven Savile, author of Silver
"Mixing history and lore with science and action, David Wood and Alan Baxter have penned a thriller that is hard to put down." Jeremy Robinson, author of Island 731
"Bone-cracking terror from the stygian depths. Explodes off the page ." Lee Murray, author, Into the Mist
"One of the best, the most thoroughly delightful and satisfying, books that I've read in quite some time. A serious out-of-the-park type of home run hit." Christine Morgan, The Horror Fiction Review
"A sinister tale of black magic and horror - not for the faint hearted." Greig Beck, bestselling author of Beneath the Dark Ice
"With mysterious rituals, macabre rites and superb supernatural action scenes, Wood and Baxter deliver a fast-paced horror thriller." J.F.Penn, author of the bestselling ARKANE thriller series
"A story that thrills and makes one think beyond the boundaries of mere fiction and enter the world of 'why not'?" David Lynn Golemon,
"A twisty tale of adventure and intrigue that never lets up and never lets go " Robert Masello "Wood and Baxter have taken on the classic black magic/cult conspiracy subgenre, chucked in a toxic mix of weirdness, creepshow chills and action, and created a tale that reads like a latter-day Hammer Horror thriller. Nice, dark fun." Robert Hood, author of Immaterial.